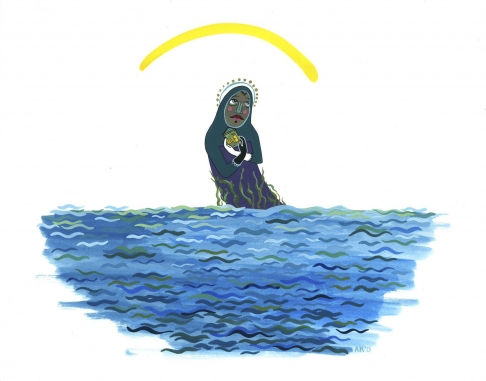 I painted this piece last year on the anniversary of Hurricane Katrina. I was not here for that day, and can only begin to imagine the trauma so many people endured as their beloved home was swept underwater. I listened to the radio programming on WWOZ on the anniversary and felt the only small and humble thing I could offer to my adopted city was to reflect and paint something inspired by the strength of those who were here. The idea of Home is such a personal and deeply rooted desire, and I have found that feeling here in New Orleans. I love this city and wanted to pay homage to those who survived Katrina, even in such a small way as this.
Gouache on Paper
11" x 14"
Shipping cost: $8.00

I am a painter, muralist, illustrator and designer. I am originally from Atlanta but have lived and/or studied fine art in several different cities including Prague, Boston, Chicago, New York, Halifax, Cape Town and New Orleans. Each place has contributed invaluable inspiration for which I will be forever grateful. In addition to working in my studio, I currently teach visual arts at an elementary school level for the Community Works non-profit program here in New Orleans.

My present studio practice is split between two series. The first consists of creating layered oil paintings on panel and canvas. I have been exploring a body of paintings, which I call "Where-Scapes". They are essentially imaginary landscapes. My intent is to create a space that lingers between worlds and inspires a sense of curiosity. I am attempting to explore the dualism of absence and presence, where a human imprint is felt in an ethereal space and light emerges from darkness.

The second series I have been working on are small imaginary deities painted on salvaged wood found around New Orleans. They are inspired by the spirituality and colorful nature of the crescent city, elements of medieval iconography, Russian nesting dolls, contemporary street art and American folk art. They are a release for me to make, a space to play with color and pattern. They are intended to bring good energy.

Alexandra Kilbrun is a New Orleans artist living and working in the French Quarter.
FRENCH QUARTER
YOU MAY ALSO LIKE
meet the artists
We are a community of New Orleans visual artists. We are painters, sculptors, fashion & jewelry designers.
We are craftsman and metal workers, illustrators and printmakers.
We make and create original & one of a kind artworks handcrafted right here in New Orleans.
Where Y'Art is a community of lovers and creators of New Orleans art.
CREATORS OF ART
Where Y'Art is a curated community of New Orleans artists, craftsmen and designers seeking to connect with buyers and each other. At Where Y'Art, you'll have more sales opportunities and access to entrepreneurial resources to grow your creative business.
Email us for more information: info@whereyart.net
LOVERS OF ART
At Where Y'Art, you will meet the people creating art, discover their passions and learn their stories. You might even buy something. So Discover New Orleans art. Follow New Orleans artists and Shop the art of our community.
We launched recently and are adding features to the site every day. You can discover our artists, view their original works and buy through our marketplace right now. Soon we are adding your ability to create an account, follow your favorite artists and favorite works.
Sign up here for updates: