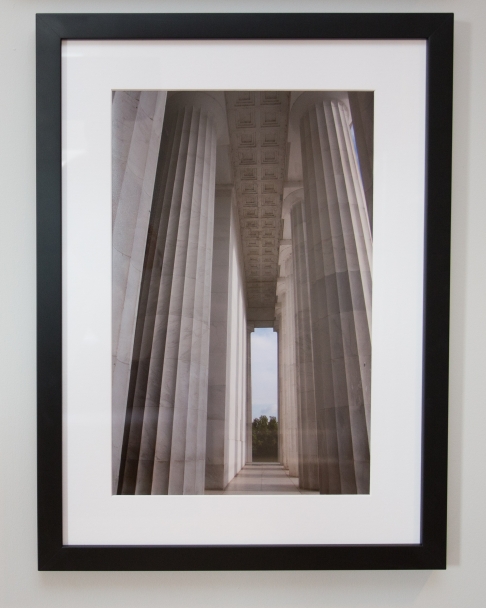 Often before I travel I enjoy researching unique opportunities and places to photograph. When visiting Washington, D.C. a number of years ago I set my alarm clock to wake me up just before sunrise. The reason? To photograph the Lincoln Memorial and the National Mall before the bus loads of tourists and visitors arrived. It was a spectacular site, watching the sun rise, illuminating the stone. Quiet, serene, statuesque. The Lincoln Memorial took eight years to complete, from 1914-1922. It is a tribute to the 16th President of the United States, Abraham Lincoln. Surrounding the memorial are 38 Doric marble columns made of Indiana limestone, as seen here. From the numerous construction materials to the many historical speeches on its steps to the panoramic views, this is one of the most impressive memorials in the country.
11x17 Fuji Crystal Archive lustre print framed with a white mat and black frame.
11x17 (print size)
Shipping cost: $15.00

Born and raised in New Orleans, I graduated from Lehigh University with a B.A. in Journalism. In 2002, I opened a local photography studio. My work has been featured at the New Orleans Photo Alliance Gallery, University of New Orleans Fine Arts Gallery, and the New Orleans Museum of Art as well as in many local and national publications. I am a member of the New Orleans Photo Alliance, American Society of Media Photographers, Arts Council of New Orleans, and Professional Photographers of America. Statuesque New Orleans, my first book, was published in 2010. I am a board member of the Monumental Task Committee, Jewish Family Service, JNOLA & Jewish Federation of Greater New Orleans and American Society of Media Photographers New Orleans-Gulf South.

Ashley Merlin is a New Orleans artist living and working in Metairie.
UPTOWN
YOU MAY ALSO LIKE
meet the artists
We are a community of New Orleans visual artists. We are painters, sculptors, fashion & jewelry designers.
We are craftsman and metal workers, illustrators and printmakers.
We make and create original & one of a kind artworks handcrafted right here in New Orleans.
Where Y'Art is a community of lovers and creators of New Orleans art.
CREATORS OF ART
Where Y'Art is a curated community of New Orleans artists, craftsmen and designers seeking to connect with buyers and each other. At Where Y'Art, you'll have more sales opportunities and access to entrepreneurial resources to grow your creative business.
Email us for more information: info@whereyart.net
LOVERS OF ART
At Where Y'Art, you will meet the people creating art, discover their passions and learn their stories. You might even buy something. So Discover New Orleans art. Follow New Orleans artists and Shop the art of our community.
We launched recently and are adding features to the site every day. You can discover our artists, view their original works and buy through our marketplace right now. Soon we are adding your ability to create an account, follow your favorite artists and favorite works.
Sign up here for updates: