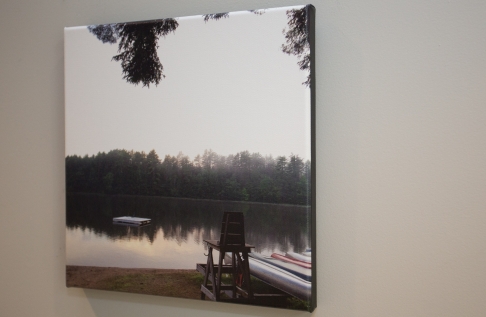 Summer on Walden Pond
2016
When I think of images that transport me to another place and time, Summer on Walden Pond would be at the very top of that list. This image was taken in the summer of 2015 at Camp Walden in Denmark, Maine at the 100th reunion. Generations of campers and counselors, my Mom and I included, came together to sing and reminisce about our time spent at camp, the traditions and friendships. When I see this photograph, I am transported to age 11. I can hear girls laughter and the ski boat zooming by with a camper in tow. I can smell the pine trees and the eye drops counselors would put in our ears after swimming. I remember the cool water on my feet and the feeling of being free. Summers on Walden Pond are some of my fondest memories of childhood.
Summer on Walden Pond is presented as a 10x10 canvas gallery wrap, ready to hang!
10x10
Shipping cost: $10.00

Born and raised in New Orleans, I graduated from Lehigh University with a B.A. in Journalism. In 2002, I opened a local photography studio. My work has been featured at the New Orleans Photo Alliance Gallery, University of New Orleans Fine Arts Gallery, and the New Orleans Museum of Art as well as in many local and national publications. I am a member of the New Orleans Photo Alliance, American Society of Media Photographers, Arts Council of New Orleans, and Professional Photographers of America. Statuesque New Orleans, my first book, was published in 2010. I am a board member of the Monumental Task Committee, Jewish Family Service, JNOLA & Jewish Federation of Greater New Orleans and American Society of Media Photographers New Orleans-Gulf South.

Ashley Merlin is a New Orleans artist living and working in Metairie.
UPTOWN
YOU MAY ALSO LIKE
meet the artists
We are a community of New Orleans visual artists. We are painters, sculptors, fashion & jewelry designers.
We are craftsman and metal workers, illustrators and printmakers.
We make and create original & one of a kind artworks handcrafted right here in New Orleans.
Where Y'Art is a community of lovers and creators of New Orleans art.
CREATORS OF ART
Where Y'Art is a curated community of New Orleans artists, craftsmen and designers seeking to connect with buyers and each other. At Where Y'Art, you'll have more sales opportunities and access to entrepreneurial resources to grow your creative business.
Email us for more information: info@whereyart.net
LOVERS OF ART
At Where Y'Art, you will meet the people creating art, discover their passions and learn their stories. You might even buy something. So Discover New Orleans art. Follow New Orleans artists and Shop the art of our community.
We launched recently and are adding features to the site every day. You can discover our artists, view their original works and buy through our marketplace right now. Soon we are adding your ability to create an account, follow your favorite artists and favorite works.
Sign up here for updates: