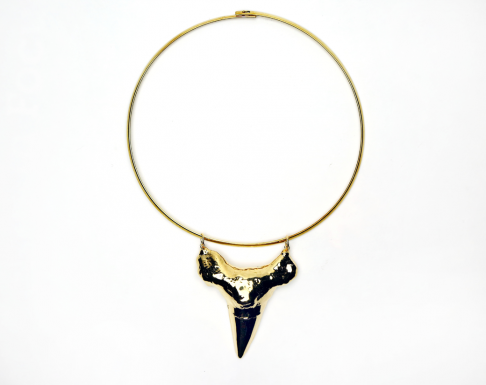 Porter Lyons
Mama Shark Tooth Choker
2015

I've always found great satisfaction making things with my hands. I think my generation is realizing how removed companies are from their end products. I know when I was employed by a large organization, I felt like my job lacked importance and was saddened by a disconnected feeling for what I was doing. That feeling of remoteness propelled me to launch Porter Lyons jewelry & accessories, a company I have built to embody locally made goods with a focus on giving back.

Porter is my surname and Lyons is my middle name, which was my grandmother's maiden name. Her family's lineage ties to New Orleans since the early 1860's and her grandfather started a drug store here called Lyons Pharmacy back in the early 1900's. It's great to be back in the city that has so much personal meaning to me and to be starting a business that helps preserve and document this culture and my family's heritage.

Every piece in my collection ties back to this city and the bayou: 5% of sales benefits wetland preservation (See more about Coastal Restoration at www.crcl.org). Since graduating from undergrad and grad school at Tulane, New Orleans continues to revive me with a beautiful funk that makes me wake up everyday and truly feel alive. New Orleans grants me the right to be me.


Ashley Porter is a New Orleans artist living and working in the French Quarter.

FRENCH QUARTER
YOU MAY ALSO LIKE
meet the artists
We are a community of New Orleans visual artists. We are painters, sculptors, fashion & jewelry designers.
We are craftsman and metal workers, illustrators and printmakers.
We make and create original & one of a kind artworks handcrafted right here in New Orleans.
Where Y'Art is a community of lovers and creators of New Orleans art.
CREATORS OF ART
Where Y'Art is a curated community of New Orleans artists, craftsmen and designers seeking to connect with buyers and each other. At Where Y'Art, you'll have more sales opportunities and access to entrepreneurial resources to grow your creative business.
Email us for more information: info@whereyart.net
LOVERS OF ART
At Where Y'Art, you will meet the people creating art, discover their passions and learn their stories. You might even buy something. So Discover New Orleans art. Follow New Orleans artists and Shop the art of our community.
We launched recently and are adding features to the site every day. You can discover our artists, view their original works and buy through our marketplace right now. Soon we are adding your ability to create an account, follow your favorite artists and favorite works.
Sign up here for updates: