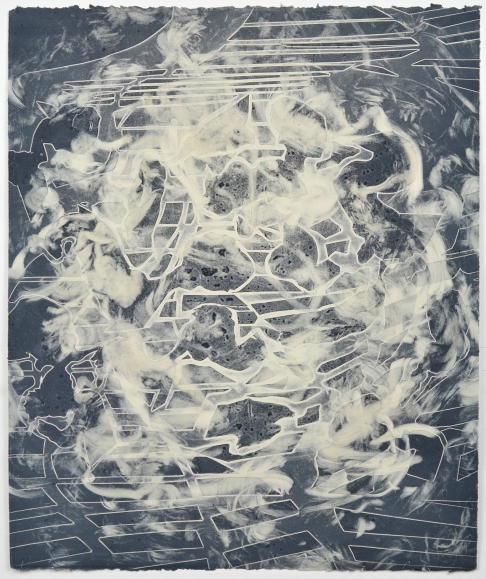 Yet it Will Only Last One Night
2016
This piece in combination with two others was inspired by the Sci-Fi writer Ursula Le Guinn's short story "Semley's Necklace". Semley passes through a tunnel that warps her life in space and time, and these pieces draw from that experience.
Monotype Print
appx 27" x 23"
Shipping cost: $30.00

I combine drawing, painting and printmaking to create work often inspired by my surroundings: physical, social and literary. Raised in North Louisiana, my training includes a BA with distinctions in Visual Art and Art History from Duke University, a Post-Baccalaureate certificate in Studio Arts from MICA, as well as experience in public arts as a Teaching Artist with the City of Philadelphia Mural Arts Program. My work has traveled the globe, including exhibitions at the Egyptian Embassy in Rome, Binyamina Gallery in Tel Aviv, the Print and Picture Collection of the Free Library of Philadelphia and the former Trouser House gallery here in New Orleans. I also publish an experimental silk screen zine called 'Puncture' .
YOU MAY ALSO LIKE
meet the artists
We are a community of New Orleans visual artists. We are painters, sculptors, fashion & jewelry designers.
We are craftsman and metal workers, illustrators and printmakers.
We make and create original & one of a kind artworks handcrafted right here in New Orleans.
Where Y'Art is a community of lovers and creators of New Orleans art.
CREATORS OF ART
Where Y'Art is a curated community of New Orleans artists, craftsmen and designers seeking to connect with buyers and each other. At Where Y'Art, you'll have more sales opportunities and access to entrepreneurial resources to grow your creative business.
Email us for more information: info@whereyart.net
LOVERS OF ART
At Where Y'Art, you will meet the people creating art, discover their passions and learn their stories. You might even buy something. So Discover New Orleans art. Follow New Orleans artists and Shop the art of our community.
We launched recently and are adding features to the site every day. You can discover our artists, view their original works and buy through our marketplace right now. Soon we are adding your ability to create an account, follow your favorite artists and favorite works.
Sign up here for updates: