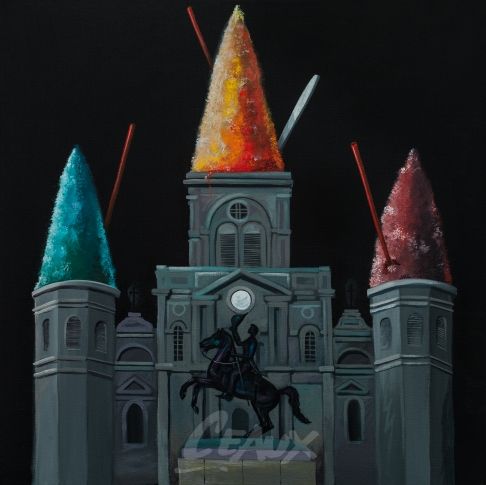 Ceaux Artwork
The Cathedral
2015
This piece actually came to mind many years ago. I used to cut thru the French quarter on my way home. It was usually very hot on my commute, so out of thirst, I just imagined a giant refreshment. The idea was silly yet fun at the time so I didn't take it too seriously. Years Later and a few months after, the idea came to me as I was sketching. At that point I knew it was time to put it on canvas.
Acrylic on canvas
12" x 12"
Shipping cost: $5.00

I'm a New Orleans-born multidisciplinary artist living and working in New Orleans, Louisiana. For over a decade, my robustly vivid paintings have pierced through the rich pulsating cultural fabric of New Orleans and its people. My visual work has been featured and exhibited in an array of venues including Axiom Gallery, The Mckenna Museum of African American Art and more recently, New Orleans Jazz & Heritage Festival. My career background includes musical production, education, and fashion design, which has given me a unique capability to focus on a range of subjects not commonly covered by other visual artists. When people look at my work, I want them to see a part of themselves in it, a sense of nostalgia. I was also trained at The New Orleans Center for Creative Arts.
UPTOWN
YOU MAY ALSO LIKE
meet the artists
We are a community of New Orleans visual artists. We are painters, sculptors, fashion & jewelry designers.
We are craftsman and metal workers, illustrators and printmakers.
We make and create original & one of a kind artworks handcrafted right here in New Orleans.
Where Y'Art is a community of lovers and creators of New Orleans art.
CREATORS OF ART
Where Y'Art is a curated community of New Orleans artists, craftsmen and designers seeking to connect with buyers and each other. At Where Y'Art, you'll have more sales opportunities and access to entrepreneurial resources to grow your creative business.
Email us for more information: info@whereyart.net
LOVERS OF ART
At Where Y'Art, you will meet the people creating art, discover their passions and learn their stories. You might even buy something. So Discover New Orleans art. Follow New Orleans artists and Shop the art of our community.
We launched recently and are adding features to the site every day. You can discover our artists, view their original works and buy through our marketplace right now. Soon we are adding your ability to create an account, follow your favorite artists and favorite works.
Sign up here for updates: