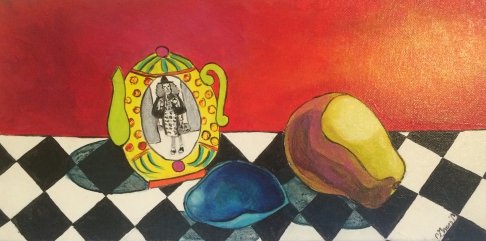 First Halloween Costume
2013
Although this is a kitchen still life from my New Orleans home, it provides the backdrop for the small framed picture in the painting. It's my first Halloween costume ( in which I felt very bewitching!), and I am standing on my grandmother's front porch in North Augusta, SC; I was 5. I have a vivid memory of this night. My Nanny had this typical large front porch where evenings and Sundays were spent visiting with neighbors and watching life stroll by; very "Andy of Mayberry". I loved my grandmother, and her wonderful porch, but hated my corrective shoes I was forced to wear, even on Halloween! A witch is still my Halloween costume of choice.
Acrylic on 1 1/2" gallery wrap canvas
6" x 14"
Shipping cost: $20.00

I feel fortunate to be able to share my love of New Orleans through my paintings. I feel like I was separated from this city at birth and that I came home when I moved here in 2009. I am in love with this colorful city that continuously entertains, amuses, and inspires me with its deep, rich history, architecture, people, amazing music, and unique neighborhoods, each with a very distinctive flavor. I also find inspiration in sentimental objects and little altars everywhere in my home, which is a sacred space to me.

My work is done in the studio and from photos I take while making my way around town, usually preferring the path less traveled. I intend to keep moving on this creative journey, always exploring different mediums and techniques.

This is my New Orleans narrative through which I hope you can experience joy, amusement, sentimentality, and some lesser known places in New Orleans from these paintings.


Cheryl Anne Grace is a New Orleans artist living and working in the Uptown area.
UPTOWN
YOU MAY ALSO LIKE
meet the artists
We are a community of New Orleans visual artists. We are painters, sculptors, fashion & jewelry designers.
We are craftsman and metal workers, illustrators and printmakers.
We make and create original & one of a kind artworks handcrafted right here in New Orleans.
Where Y'Art is a community of lovers and creators of New Orleans art.
CREATORS OF ART
Where Y'Art is a curated community of New Orleans artists, craftsmen and designers seeking to connect with buyers and each other. At Where Y'Art, you'll have more sales opportunities and access to entrepreneurial resources to grow your creative business.
Email us for more information: info@whereyart.net
LOVERS OF ART
At Where Y'Art, you will meet the people creating art, discover their passions and learn their stories. You might even buy something. So Discover New Orleans art. Follow New Orleans artists and Shop the art of our community.
We launched recently and are adding features to the site every day. You can discover our artists, view their original works and buy through our marketplace right now. Soon we are adding your ability to create an account, follow your favorite artists and favorite works.
Sign up here for updates: