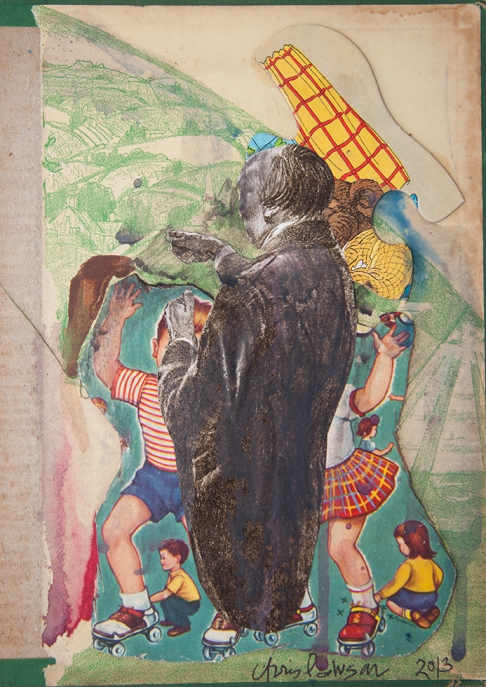 I've always believed in the inherent spirits in objects, books, vessels, fabrics and textiles. My parents had an antiques business when I was little and I began doing ritual-style installations with objects at an early age. That is essentially what I still do...scour local and far-flung destinations in search of the materials to manifest my visual narratives (paintings, drawings, collages, assemblages, sculptures, and installations). My friend Merrilee says I'm an 'ethnographic surrealist' and I think that's an apt description.

I 
live in New Orleans. I also write and make films.

Recent exhibitions of my visual art include: Haiti, Cambodia, and Washington DC. I've taught and worked with young artists at Fosaj Arts (Jacmel, Haiti), The Happy School (Phnom Penh, Cambodia) and at the Corcoran School of Art and Design. 
Collectors include Alexander Payne, Michael Stipe, Julianne Moore, Patti Smith, Richard Simmons and Bon Iver.


Chris Lawson is a New Orleans artist living and working in the Bywater neighborhood.
BYWATER
YOU MAY ALSO LIKE
meet the artists
We are a community of New Orleans visual artists. We are painters, sculptors, fashion & jewelry designers.
We are craftsman and metal workers, illustrators and printmakers.
We make and create original & one of a kind artworks handcrafted right here in New Orleans.
Where Y'Art is a community of lovers and creators of New Orleans art.
CREATORS OF ART
Where Y'Art is a curated community of New Orleans artists, craftsmen and designers seeking to connect with buyers and each other. At Where Y'Art, you'll have more sales opportunities and access to entrepreneurial resources to grow your creative business.
Email us for more information: info@whereyart.net
LOVERS OF ART
At Where Y'Art, you will meet the people creating art, discover their passions and learn their stories. You might even buy something. So Discover New Orleans art. Follow New Orleans artists and Shop the art of our community.
We launched recently and are adding features to the site every day. You can discover our artists, view their original works and buy through our marketplace right now. Soon we are adding your ability to create an account, follow your favorite artists and favorite works.
Sign up here for updates: