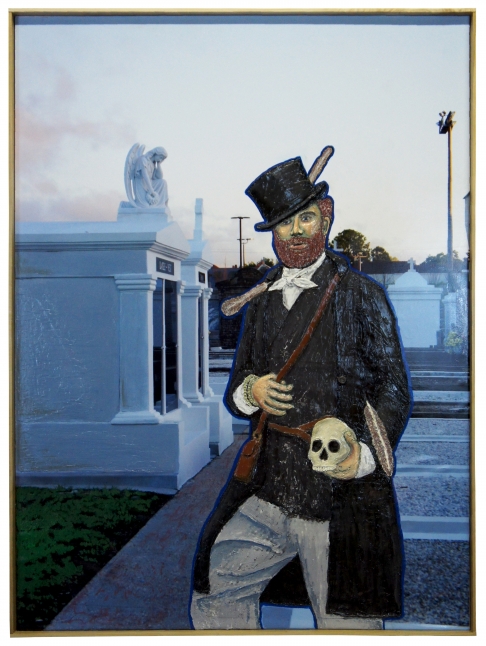 Fred is Alive and Dapper AF
2017
Fred can thumb his nose at death and wear great stuff while doing it--we all know the type. Sometimes I want to be like Fred, dapper and full of myself, but I rarely let myself. Before making this painting, I probably would have found Fred vain and annoying, but now I accept Fred and think maybe I should peacock around from time to time and look death in the face while wearing some cool stuff. Maybe it is alright to stand in the graveyard in your freshest gear.
Textured Latex, Acrylic Paint, and Oil Pastel on Photograph on Canvas
48 In. High x 36 In. Wide x 2 In. Deep
Shipping cost: $0.00

I was born and raised in New Orleans, at a young age I took interest in local art and culture, as well as contemporary art in general. Leaving behind engineering scholarships at 19 to fully pursue my art interests, I soon booked my first exhibit in New Orleans showing colored-pencil sketches based on studies of Degas' dancers.

After these Degas studies and many others of great artists, I began pursuing a new, self-taught method that formed into the sculptural-painting and collage techniques I use today. My works using these techniques have been shown in New York, New Orleans, and Oklahoma City galleries.

Drew Cooke is a New Orleans artist living and working Uptown.
UPTOWN
YOU MAY ALSO LIKE
meet the artists
We are a community of New Orleans visual artists. We are painters, sculptors, fashion & jewelry designers.
We are craftsman and metal workers, illustrators and printmakers.
We make and create original & one of a kind artworks handcrafted right here in New Orleans.
Where Y'Art is a community of lovers and creators of New Orleans art.
CREATORS OF ART
Where Y'Art is a curated community of New Orleans artists, craftsmen and designers seeking to connect with buyers and each other. At Where Y'Art, you'll have more sales opportunities and access to entrepreneurial resources to grow your creative business.
Email us for more information: info@whereyart.net
LOVERS OF ART
At Where Y'Art, you will meet the people creating art, discover their passions and learn their stories. You might even buy something. So Discover New Orleans art. Follow New Orleans artists and Shop the art of our community.
We launched recently and are adding features to the site every day. You can discover our artists, view their original works and buy through our marketplace right now. Soon we are adding your ability to create an account, follow your favorite artists and favorite works.
Sign up here for updates: