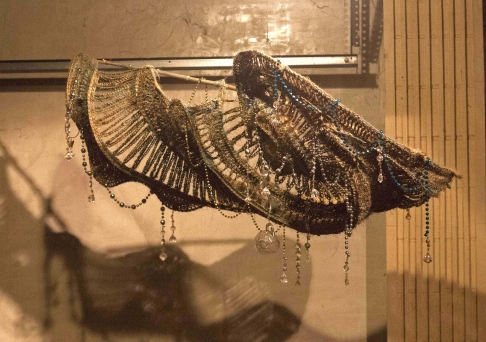 This is the first sculpture that asked what if a pattern deviated.  It seems crazy to me that when scientists pose schematics for creation that they set up one dynamic.  In a non linear world any pattern could evolve from any other and could reform from future to past.
Crocheted jute, steel, latex paint, beads, and found objects.

60" x 30"
Shipping cost: $0.00

I am explore large archetypical forms built by the motif of crochet stitches. Twine and steel are efficient mediums for creating light-weight voluminous sculptures that have as much etheric space as solid. This allows for light to move through these pieces, creating shadows that are of equal importance to the object. This is the physical manifestation of Tantra.


Elizabeth Eckman is a New Orleans artist living and working in the Oretha Castle Haley area.

ORETHA CASTLE HALEY
YOU MAY ALSO LIKE
meet the artists
We are a community of New Orleans visual artists. We are painters, sculptors, fashion & jewelry designers.
We are craftsman and metal workers, illustrators and printmakers.
We make and create original & one of a kind artworks handcrafted right here in New Orleans.
Where Y'Art is a community of lovers and creators of New Orleans art.
CREATORS OF ART
Where Y'Art is a curated community of New Orleans artists, craftsmen and designers seeking to connect with buyers and each other. At Where Y'Art, you'll have more sales opportunities and access to entrepreneurial resources to grow your creative business.
Email us for more information: info@whereyart.net
LOVERS OF ART
At Where Y'Art, you will meet the people creating art, discover their passions and learn their stories. You might even buy something. So Discover New Orleans art. Follow New Orleans artists and Shop the art of our community.
We launched recently and are adding features to the site every day. You can discover our artists, view their original works and buy through our marketplace right now. Soon we are adding your ability to create an account, follow your favorite artists and favorite works.
Sign up here for updates: