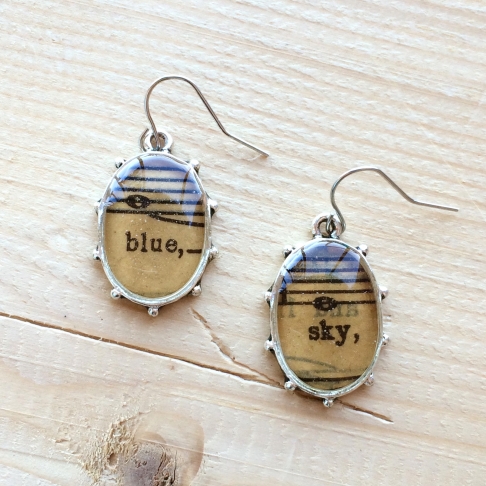 Coralie Jewelry
Blue Sky Sheet Music Earrings
2016
A reminder to look on the sunny side, as blue skies are never far away. These earrings are made from vintage sheet music, jewelry grade resin and silver plated settings. Like all of my work, they are personally designed, assembled and poured by me, and entirely unique.
Silver plated copper, epoxy resin, vintage sheet music
1" x .5" (hook length not included)
Shipping cost: $0.00

Though always artistic and crafty growing up, I didn't start making jewelry until I moved to New Orleans in 2008. After teaching myself basic jewelry construction and beading skills I became fascinated with preserving things in resin and began working with plants, shells, and insect wings. Over time my work evolved into what it is today, leaving nature behind to focus on the preservation and artistic presentation of man-made media, particularly printed paper, which can be as fragile and ephemeral as pressed leaves. While I grew up surrounded by nature in rural Pennsylvania, the subject matter of my current work is more in tune with the urban sphere I inhabit today.

Emily McDonald is a New Orleans artist living and working in the Uptown neighborhood.
UPTOWN
Where Y'Art is a community of lovers and creators of New Orleans art.
CREATORS OF ART
Where Y'Art is a curated community of New Orleans artists, craftsmen and designers seeking to connect with buyers and each other. At Where Y'Art, you'll have more sales opportunities and access to entrepreneurial resources to grow your creative business.
Email us for more information: info@whereyart.net
LOVERS OF ART
At Where Y'Art, you will meet the people creating art, discover their passions and learn their stories. You might even buy something. So Discover New Orleans art. Follow New Orleans artists and Shop the art of our community.
We launched recently and are adding features to the site every day. You can discover our artists, view their original works and buy through our marketplace right now. Soon we are adding your ability to create an account, follow your favorite artists and favorite works.
Sign up here for updates: