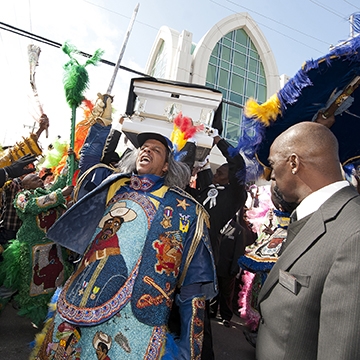 Big: Rise in Glory - Big Chief Bo Dollis's Funeral
2015
Pallbearers lift the casket three times before putting it in the hearse during the funeral of Theodore Emile "Bo" Dollis, Big Chief of the Wild Magnolias Mardi Gras Indians, at Xavier Convocation Center on January 31, 2015, in New Orleans, LA. Dollis passed away January 20, 2015. © Erika Goldring 2015 - All Rights Reserved.
Fine Art Digital Photograph
20" x 20"
Shipping cost: $40.00
I love a live show and I like making pretty pictures. As an editorial entertainment photographer for one of the country's premier photo agencies, I have developed my own unique style of performance portraiture, be it musicians performing on stage, Mardi Gras Indians masking in the streets of New Orleans or Social Aid & Pleasure Club members parading on a Sunday afternoon.

My intention is to capture the energy—whether it's the split second a beautiful stage light falls on the subject or the raw emotion emanating from the performer lost in a groove. Capturing that moment is what counts most. I am a fixture in night clubs and arenas, at music festivals and on red carpets, but I am also trusted backstage, during private recording sessions and at funerals to document intimate and candid moments. The camera is my instrument.

My work is regularly featured in a number of music publications and newspapers, including Rolling Stone, Billboard, Entertainment Weekly, Country Weekly, People, Time, and DownBeat, as well as the New York Times, USA Today, The Times-Picayune and The New Orleans Advocate newspapers. I am a staff photographer at the legendary Tipitina's, UNO Lakefront Arena, and The Saenger Theatre. I have had works accepted into the Smithsonian's Ogden Museum of Southern Art in New Orleans, Louisiana; the Delta Blues Museum in Clarksdale, Mississippi; the Rock & Roll Hall of Fame Museum in Cleveland, Ohio; and the George and Joyce Wein Jazz & Heritage Center in New Orleans, Louisiana.

Erika Goldring is a New Orleans artist living and working in the Freret neighborhood.
UPTOWN/FRERET
YOU MAY ALSO LIKE
meet the artists
We are a community of New Orleans visual artists. We are painters, sculptors, fashion & jewelry designers.
We are craftsman and metal workers, illustrators and printmakers.
We make and create original & one of a kind artworks handcrafted right here in New Orleans.
Where Y'Art is a community of lovers and creators of New Orleans art.
CREATORS OF ART
Where Y'Art is a curated community of New Orleans artists, craftsmen and designers seeking to connect with buyers and each other. At Where Y'Art, you'll have more sales opportunities and access to entrepreneurial resources to grow your creative business.
Email us for more information: info@whereyart.net
LOVERS OF ART
At Where Y'Art, you will meet the people creating art, discover their passions and learn their stories. You might even buy something. So Discover New Orleans art. Follow New Orleans artists and Shop the art of our community.
We launched recently and are adding features to the site every day. You can discover our artists, view their original works and buy through our marketplace right now. Soon we are adding your ability to create an account, follow your favorite artists and favorite works.
Sign up here for updates: