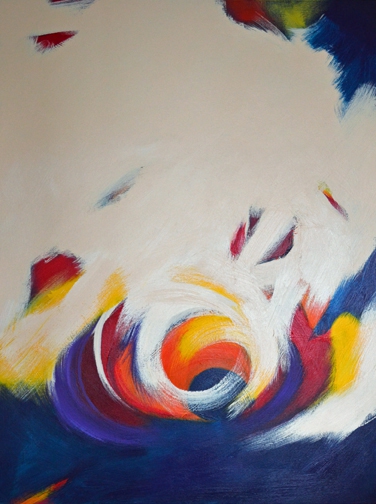 "My Bucket Has a Hole in It" homage to the Treme Brass Band
2012
New Orleans' legendary Treme Brass Band has played magical music for decades and is beloved from the Treme & French Quarter to France and around the world. The men of Treme are survivors. They escaped the ravages of Hurricane Katrina, helping rebuild New Orleans through their incredible music. They also survived the loss of their leader, the iconic Uncle Lionel Batiste, who passed away in 2012. But just as a true New Orleans funeral leads to a second-line party, the show and the music must go on.
acrylic on canvas
36" x 48"
Shipping cost: $125.00

I call my art "Composing with Color". Everyone hears music differently. The way we perceive art is shaped by our taste and by emotions, situations and personalities. My canvas is the manuscript on which the notes are painted. I have attempted to have music take on physical colors as it travels through air. My ideal vision would be to create a world in colors as Thelonious Monk created a world of sound.

I am a graduate of The Pennsylvania Academy of the Fine Arts in Philadelphia, PA. I have had solo exhibitions in New Orleans, Los Angeles, Miami and Frankfurt, Germany. I have received a grant from the prestigious Pollock-Krasner Foundation and the Artist Fellowship Inc, New York, NY.


George McClements is a New Orleans artist living and working in the Bywater neighborhood.
BYWATER
YOU MAY ALSO LIKE
meet the artists
We are a community of New Orleans visual artists. We are painters, sculptors, fashion & jewelry designers.
We are craftsman and metal workers, illustrators and printmakers.
We make and create original & one of a kind artworks handcrafted right here in New Orleans.
Where Y'Art is a community of lovers and creators of New Orleans art.
CREATORS OF ART
Where Y'Art is a curated community of New Orleans artists, craftsmen and designers seeking to connect with buyers and each other. At Where Y'Art, you'll have more sales opportunities and access to entrepreneurial resources to grow your creative business.
Email us for more information: info@whereyart.net
LOVERS OF ART
At Where Y'Art, you will meet the people creating art, discover their passions and learn their stories. You might even buy something. So Discover New Orleans art. Follow New Orleans artists and Shop the art of our community.
We launched recently and are adding features to the site every day. You can discover our artists, view their original works and buy through our marketplace right now. Soon we are adding your ability to create an account, follow your favorite artists and favorite works.
Sign up here for updates: