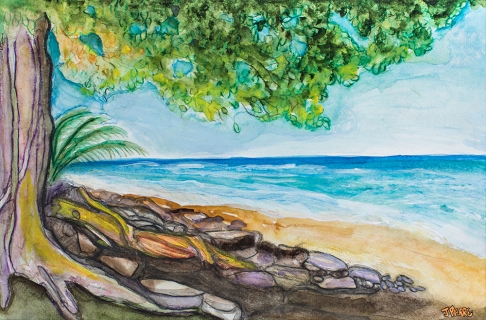 Art by J. Pierre
Playa Grande
2014

I was born in New Orleans in 1973 and began my artistic career as a graffiti writer and street artist.

My work is influenced by urban big city culture and rural southern contrast.

Being left handed, my natural philosophy is expressed with techniques that allow different mediums to be used for a diverse body of work. My work represents aspects of both universal and local conversation and an attempt to blur the lines between them.

My moral philosophy has been applied in my years as an art instructor and mentor. My audiences are also my classroom. The goal is to influence a well balanced open mind state and to inspire my audiences to not get stuck in a box. We are all one and are connected.

As a visual communicator I am inspired to always humbly search for the connection between the arts, the spiritual world, and humanity.

ALGIERS
YOU MAY ALSO LIKE
meet the artists
We are a community of New Orleans visual artists. We are painters, sculptors, fashion & jewelry designers.
We are craftsman and metal workers, illustrators and printmakers.
We make and create original & one of a kind artworks handcrafted right here in New Orleans.
Where Y'Art is a community of lovers and creators of New Orleans art.
CREATORS OF ART
Where Y'Art is a curated community of New Orleans artists, craftsmen and designers seeking to connect with buyers and each other. At Where Y'Art, you'll have more sales opportunities and access to entrepreneurial resources to grow your creative business.
Email us for more information: info@whereyart.net
LOVERS OF ART
At Where Y'Art, you will meet the people creating art, discover their passions and learn their stories. You might even buy something. So Discover New Orleans art. Follow New Orleans artists and Shop the art of our community.
We launched recently and are adding features to the site every day. You can discover our artists, view their original works and buy through our marketplace right now. Soon we are adding your ability to create an account, follow your favorite artists and favorite works.
Sign up here for updates: