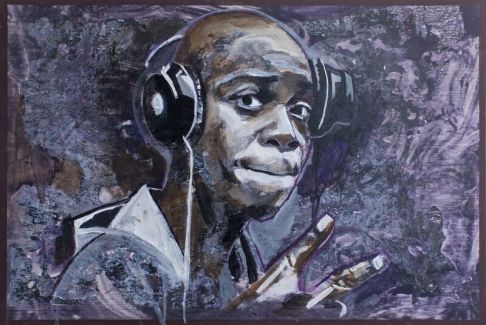 I'm just a big fan of his. He's a brilliant comedian and I decided to pay my tribute to that. I began with a muted abstract background and then worked his image into it. I tried to meet him at the Saenger Theater after his show but he got away like a ninja.
wood panel, enamel
17 x 24"
Shipping cost: $0.00

I am a self-taught painter and performance artist. "Live" painting has been my gig for over a decade. I have traveled a lot with it and improved greatly over time. Public work pressed me forward in very positive ways. It defined my style. I'm still very much in love with creating new work along with continuous experimentation. I can be found painting at different locations around town with shows popping up occasionally. I have a studio in Mid City.
MIDCITY
YOU MAY ALSO LIKE
meet the artists
We are a community of New Orleans visual artists. We are painters, sculptors, fashion & jewelry designers.
We are craftsman and metal workers, illustrators and printmakers.
We make and create original & one of a kind artworks handcrafted right here in New Orleans.
Where Y'Art is a community of lovers and creators of New Orleans art.
CREATORS OF ART
Where Y'Art is a curated community of New Orleans artists, craftsmen and designers seeking to connect with buyers and each other. At Where Y'Art, you'll have more sales opportunities and access to entrepreneurial resources to grow your creative business.
Email us for more information: info@whereyart.net
LOVERS OF ART
At Where Y'Art, you will meet the people creating art, discover their passions and learn their stories. You might even buy something. So Discover New Orleans art. Follow New Orleans artists and Shop the art of our community.
We launched recently and are adding features to the site every day. You can discover our artists, view their original works and buy through our marketplace right now. Soon we are adding your ability to create an account, follow your favorite artists and favorite works.
Sign up here for updates: