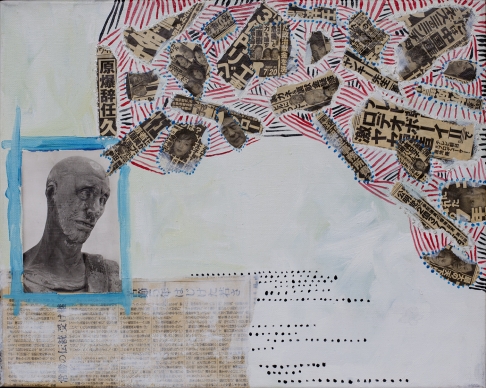 This is a mixed media collage piece containing Asian newspapers rescued from the trash and a postcard purchased at an estate sale. The expression on the statue's face inspired me to make this newspaper bubble spouting from his head. I imagined him full of confusion and angst.
Acrylic with paper on canvas
20" x 16" x .75"
Shipping cost: $20.00

Jill was absorbed in various creative processes at a young age. Guided by family members, she developed many skill sets from basket weaving to drawing. Jill received a Bachelor of Fine Arts Degree from the State University of New York at Oswego. Continuing to explore every medium, she landed on Painting as a major. Her current work is mixed media with acrylic, often incorporating fabric, paper and found objects.

Jill is inspired by nontraditional mediums, using them to experiment and create various series. Some series explore certain emotions while others are purely tactile explorations of different mediums. Jill has been known to paint with tea or incorporate produce bags and other found objects into her work creating a truly one of a kind visual experience.

Feeling the need for a new challenge and change, Jill taught herself to sew in 2006. Her textile work focuses on accessories and home décor items, all of which are one of a kind. In 2013 she began designing her own fabrics through the use of her photography and digitally restored vintage items. She continuously debuts new fabrics that reflect her love of New Orleans, fashion and travel.

Jill's work is available at local and national art markets, festivals and select retailers.

Jill Shampine is a New Orleans artist living and working in the Gentilly neighborhood.

BYWATER
Where Y'Art is a community of lovers and creators of New Orleans art.
CREATORS OF ART
Where Y'Art is a curated community of New Orleans artists, craftsmen and designers seeking to connect with buyers and each other. At Where Y'Art, you'll have more sales opportunities and access to entrepreneurial resources to grow your creative business.
Email us for more information: info@whereyart.net
LOVERS OF ART
At Where Y'Art, you will meet the people creating art, discover their passions and learn their stories. You might even buy something. So Discover New Orleans art. Follow New Orleans artists and Shop the art of our community.
We launched recently and are adding features to the site every day. You can discover our artists, view their original works and buy through our marketplace right now. Soon we are adding your ability to create an account, follow your favorite artists and favorite works.
Sign up here for updates: