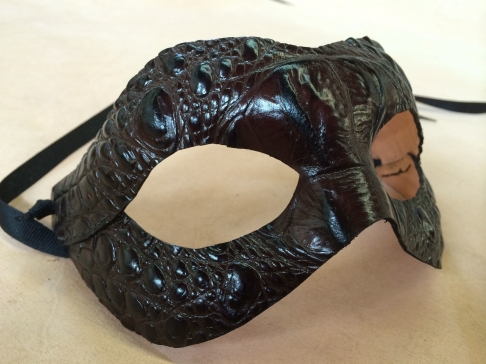 Flemming Studio
Loup
2016

My work is the outgrowth of more than 40 years of work in the medium of leather. While continuing to produce a small line of exquisite accessories, more recently, my pieces have concentrated on the sculptural possibilities of leather. I have chosen the mask as a form to explore these possibilities. Inspired by the life forms in nature, these pieces suggest wind, fire, and motion, not usually associated with objects made of this medium.

All of these pieces are created entirely "free hand", without the assistance of any molds or forms, while the leather is both hot and wet. Colors are hand rubbed dyes , followed by acrylic glazes, which are applied delicately with small brushes. All pieces are primarily decorative but also wearable.


John Flemming is a New Orleans artist living and working in the East Carrollton neighborhood.

CARROLLTON
Where Y'Art is a community of lovers and creators of New Orleans art.
CREATORS OF ART
Where Y'Art is a curated community of New Orleans artists, craftsmen and designers seeking to connect with buyers and each other. At Where Y'Art, you'll have more sales opportunities and access to entrepreneurial resources to grow your creative business.
Email us for more information: info@whereyart.net
LOVERS OF ART
At Where Y'Art, you will meet the people creating art, discover their passions and learn their stories. You might even buy something. So Discover New Orleans art. Follow New Orleans artists and Shop the art of our community.
We launched recently and are adding features to the site every day. You can discover our artists, view their original works and buy through our marketplace right now. Soon we are adding your ability to create an account, follow your favorite artists and favorite works.
Sign up here for updates: