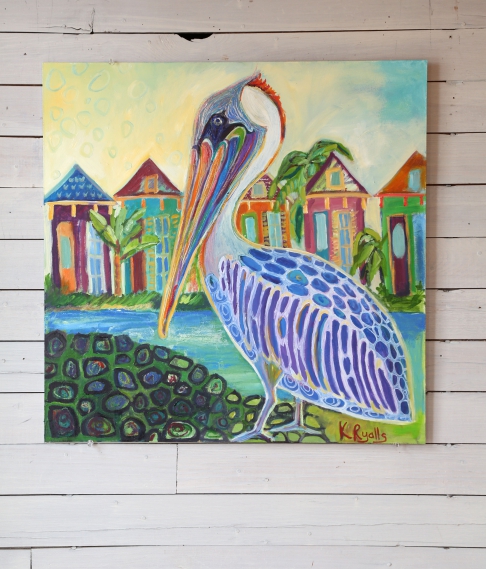 Mid City Love Fine Art Print
2014
Mid City is both a great place to live and to enjoy the everyday surprises in nature. The breeze across the bayou, the sounds of brass bands practicing, birds, dogs, food, canoes, bicycles, volleyball, jumping fish, turtles, picnics, rope swings and more. Life and love in Mid City.
Fine art print on archival watercolor paper
15" x 15"
Shipping cost: $15.00

I create because I am compelled to - it has been the tilt of my life since I was a child, though back then it was an experience in working with what was around me - arranging leaves and twigs, collecting and observing rocks and feathers and shells and fabric scraps.

I create art with focus on the process while responding to and revealing the different ways I experience the world around me. It encompasses the thoughts in my head, the emotions I experience, and the places I love to visit and explore.

Over a decade ago I packed up my life and my car for a new adventure. New Orleans was supposed to be a brief stop on my way out west, but falling in love with New Orleans can change your plans and your life and it has been my home since. I still take a long escape to the west that calls me for inspiration and altitude. At heart, I am a North Carolina girl, born and raised there in the woods; the kind that is well acquainted with rivers and trees and says things like y'all. I received my degree in studio art with a concentration in painting from Elon University in 2003.


Contact me if you are in New Orleans and would like to see my artwork in person - I am happy to coordinate and make that happen.


Kat Ryalls is a New Orleans artist living and working in the Bayou St. John neighborhood. www.katryalls.com

BAYOU ST. JOHN
YOU MAY ALSO LIKE
meet the artists
We are a community of New Orleans visual artists. We are painters, sculptors, fashion & jewelry designers.
We are craftsman and metal workers, illustrators and printmakers.
We make and create original & one of a kind artworks handcrafted right here in New Orleans.
Where Y'Art is a community of lovers and creators of New Orleans art.
CREATORS OF ART
Where Y'Art is a curated community of New Orleans artists, craftsmen and designers seeking to connect with buyers and each other. At Where Y'Art, you'll have more sales opportunities and access to entrepreneurial resources to grow your creative business.
Email us for more information: info@whereyart.net
LOVERS OF ART
At Where Y'Art, you will meet the people creating art, discover their passions and learn their stories. You might even buy something. So Discover New Orleans art. Follow New Orleans artists and Shop the art of our community.
We launched recently and are adding features to the site every day. You can discover our artists, view their original works and buy through our marketplace right now. Soon we are adding your ability to create an account, follow your favorite artists and favorite works.
Sign up here for updates: