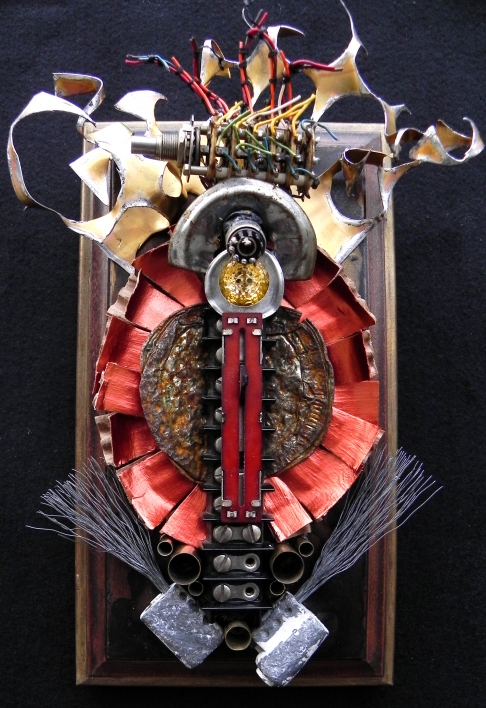 Kel Mur Art
Thelxiope
2016
The Vagina Shrine series stems from how little exposure women have to honest representations of female genitalia. During their construction, I keep myself present in the thought that it doesn't matter how they look. In the end they will be whatever they are supposed to be. No two vaginas are the same, each having their own identity yet funneled through the female lens. The found objects I use are symbols of the individual experience- a piece here, an event there that come together into this recognizable shape. The Vagina Shrines are an opportunity to explore the complexities of womanhood as they each bring a side of that identity from between the legs and into the light.
Found objects, brass, cardboard, acrylic on salvaged drawer face.
9.5" x 5"
Shipping cost: $50.00

I like junk.

I grew up in New Jersey surrounded by antiques, machinery, and stockpiles of seemingly meaningless objects kept as a result of my parents' collective sentimentality. I graduated Cum Laude with a Bachelors of Arts in Studio Art from Monmouth University's Honors Program and achieved the Creativity in Studio Art Award. My work took on a strong feminist presence during this time and I've shown pieces of that body of work in galleries along the New Jersey Shore and in New York City.

Currently, I gain momentum from my continuous exposure to graffiti, deteriorating buildings, man versus nature, and how well I play with others. Often, this manifests into rescuing trash from the street and examining its potential for new life. I also sometimes steal my neighbors' newspapers and compulsively saves cardboard. I spend many hours staring at my collection of modern human artifacts waiting for their connections to emerge. Much of my assemblage work takes on mandala or shrine-like characteristics while illustrating the world spinning in my mind. Concerns about femininity and the commodification of the body are regular working themes of mine, and I will occasionally rely on photography or painting for their final execution.

I currently reside in the Treme neighborhood of New Orleans, Louisiana because it overflows with inspiration and great music. Plus, it has the best garbage.


Kel Mur is a New Orleans artist living and working in the Treme-Lafitte neighborhood.

TREME-LAFITTE
YOU MAY ALSO LIKE
meet the artists
We are a community of New Orleans visual artists. We are painters, sculptors, fashion & jewelry designers.
We are craftsman and metal workers, illustrators and printmakers.
We make and create original & one of a kind artworks handcrafted right here in New Orleans.
Where Y'Art is a community of lovers and creators of New Orleans art.
CREATORS OF ART
Where Y'Art is a curated community of New Orleans artists, craftsmen and designers seeking to connect with buyers and each other. At Where Y'Art, you'll have more sales opportunities and access to entrepreneurial resources to grow your creative business.
Email us for more information: info@whereyart.net
LOVERS OF ART
At Where Y'Art, you will meet the people creating art, discover their passions and learn their stories. You might even buy something. So Discover New Orleans art. Follow New Orleans artists and Shop the art of our community.
We launched recently and are adding features to the site every day. You can discover our artists, view their original works and buy through our marketplace right now. Soon we are adding your ability to create an account, follow your favorite artists and favorite works.
Sign up here for updates: