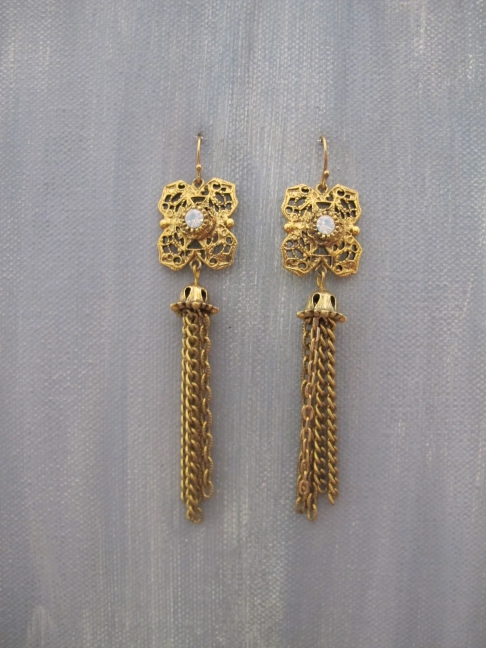 Construct Jewelry
Starry Night

Art and design have always been an integral part of my life. As a native of New Orleans, I had many opportunities to explore and indulge in the decadence and diversity of the art, architecture, and culture of my city. I began transforming these influences into a reality after the city experienced the devastation of Hurricane Katrina. I then found myself living in another city, in a small apartment with my family. Similar to the origins of lace in the Victorian era when women were confined to the indoors without other avenues of expression, I began to take apart, reconstruct, and ultimately create new pieces of jewelry. My passion for manipulating materials, as well as the notion that nothing is static, became the driving forces behind Construct Jewelry.

In the years following Katrina, I pursued my passion to help others, and obtained my Masters in Social Work from Tulane. While I worked as a therapist, providing grief and trauma counseling to children in New Orleans, I continued to create and regenerate pieces of jewelry from the past, which might otherwise have been left unappreciated, unworn, and forgotten. In many ways, I embraced the similarities of both my creative processes in jewelry designing and building relationships with my clients, realizing that both focus on recognizing, celebrating, and cultivating vitality in those people or things that seem to have no opportunity to change. Each of my pieces is original and made with vintage parts, demonstrating the striking transformation from what was to what can be.

If you are interested in collaborating in a custom design, please don't hesitate to contact me. Services I offer include custom heirloom designs, using a personal piece from you own collection and custom bridal designs.


Lauren Schonekas is a New Orleans artist living and working in the Uptown neighborhood.

UPTOWN
YOU MAY ALSO LIKE
meet the artists
We are a community of New Orleans visual artists. We are painters, sculptors, fashion & jewelry designers.
We are craftsman and metal workers, illustrators and printmakers.
We make and create original & one of a kind artworks handcrafted right here in New Orleans.
Where Y'Art is a community of lovers and creators of New Orleans art.
CREATORS OF ART
Where Y'Art is a curated community of New Orleans artists, craftsmen and designers seeking to connect with buyers and each other. At Where Y'Art, you'll have more sales opportunities and access to entrepreneurial resources to grow your creative business.
Email us for more information: info@whereyart.net
LOVERS OF ART
At Where Y'Art, you will meet the people creating art, discover their passions and learn their stories. You might even buy something. So Discover New Orleans art. Follow New Orleans artists and Shop the art of our community.
We launched recently and are adding features to the site every day. You can discover our artists, view their original works and buy through our marketplace right now. Soon we are adding your ability to create an account, follow your favorite artists and favorite works.
Sign up here for updates: