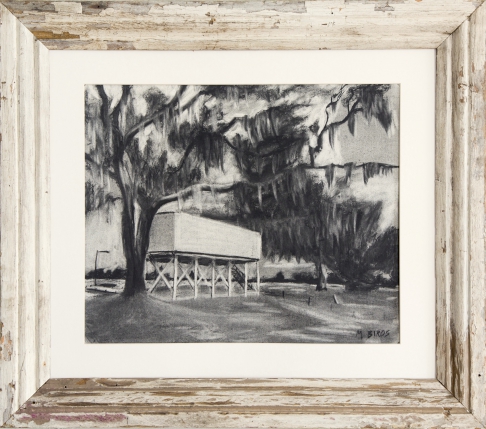 Deep in the bayous of Southeast Louisiana, all of the houses are raised high on stilts. This particular house has no windows and is located near a major oil & gas shipyard. I found it to be an interesting dialogue on seclusion and ignorance of environmental conditions.
Charcoal on paper, reclaimed wood frame
17x14" (unframed) 25x22" (framed)
Shipping cost: $50.00

The relationship between landscapes and structures fascinates me. My goal is to visually communicate the interconnectedness of the environment, the natural landscape, structures, infrastructure, and the viewer. A strong theme throughout my work is an awareness of illusionistic space that incorporates the viewer's perspective into the architecture/environment dialogue. Through the exaggerated use of diminishing perspective, varying line and edge definition, and the intense representation of light and shadow, I create spaces that allow the viewer to wander through.

By portraying infrastructure, structures, and landscapes, I examine the paradoxical struggle between nature and civilization. Nature is inherently wild and entropic, yet we expend so much energy into forcing it into submission, marginalizing it, and ultimately, separating it from us. This is especially true and relevant to southeast Louisiana where the taming of the Mississippi River threatens the wetlands that support and protect the entire area. In my work, I reveal how the dichotomy between man and nature is a constructed fallacy. In showing how manmade structures are subject to and exist within the environment and not separate from it, my work addresses a key concept in deep ecology--that there is no real separation between the human and the non-human realms.

I want my work to raise ecological questions and break the preconceived boundaries between the environment and architecture: Where does the environment end and the landscape or the architecture begin? What is the viewer's relationship to architecture and the environment?

Note: Currently local pick up is not an option.


Michael Biros is a New Orleans artist living and working in the Bywater neighborhood.
BYWATER
YOU MAY ALSO LIKE
meet the artists
We are a community of New Orleans visual artists. We are painters, sculptors, fashion & jewelry designers.
We are craftsman and metal workers, illustrators and printmakers.
We make and create original & one of a kind artworks handcrafted right here in New Orleans.
Where Y'Art is a community of lovers and creators of New Orleans art.
CREATORS OF ART
Where Y'Art is a curated community of New Orleans artists, craftsmen and designers seeking to connect with buyers and each other. At Where Y'Art, you'll have more sales opportunities and access to entrepreneurial resources to grow your creative business.
Email us for more information: info@whereyart.net
LOVERS OF ART
At Where Y'Art, you will meet the people creating art, discover their passions and learn their stories. You might even buy something. So Discover New Orleans art. Follow New Orleans artists and Shop the art of our community.
We launched recently and are adding features to the site every day. You can discover our artists, view their original works and buy through our marketplace right now. Soon we are adding your ability to create an account, follow your favorite artists and favorite works.
Sign up here for updates: