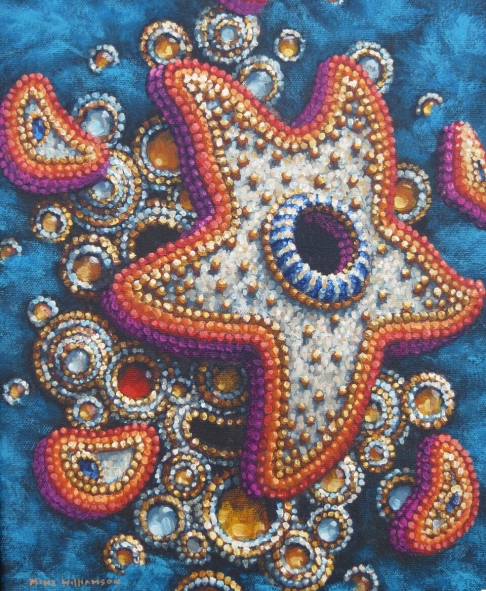 After admiring and following the Mardi Gras Indians for so many years, so much of what I imagine is made of the beads and rhinestones that they use so well to express themselves. This painting was by a trip down to Key West, another place with a vibrant masking tradition. There you can walk a few blocks down the street and wade amongst the starfish. Pure paradise.
Acrylic
12" x 10"
Shipping cost: $0.00

I was born and raised in New Orleans and began painting 
at an early age. After graduating from the Colorado Institute 
of Art with a degree in graphic design, I returned to New Orleans and spent a decade in the advertising business. I 
then switched to murals and decorative painting while 
continuing to produce posters, flyers and CD covers for the 
music industry. My own paintings over the years have 
covered many subjects from portraits to landscapes, but 
lately it's been about masks. New Orleans's love of masking is
 something we share with other unique cultures around the
 world. But while places such as Mali, Haiti and Venice have
 their own distinct styles, in New Orleans you get to see a 
little bit of it all. Whatever genre of work comes next for me, there will 
never be a shortage of inspiration here.

Mike Williamson is a New Orleans artist living and working in the Uptown neighborhood.

UPTOWN
YOU MAY ALSO LIKE
meet the artists
We are a community of New Orleans visual artists. We are painters, sculptors, fashion & jewelry designers.
We are craftsman and metal workers, illustrators and printmakers.
We make and create original & one of a kind artworks handcrafted right here in New Orleans.
Where Y'Art is a community of lovers and creators of New Orleans art.
CREATORS OF ART
Where Y'Art is a curated community of New Orleans artists, craftsmen and designers seeking to connect with buyers and each other. At Where Y'Art, you'll have more sales opportunities and access to entrepreneurial resources to grow your creative business.
Email us for more information: info@whereyart.net
LOVERS OF ART
At Where Y'Art, you will meet the people creating art, discover their passions and learn their stories. You might even buy something. So Discover New Orleans art. Follow New Orleans artists and Shop the art of our community.
We launched recently and are adding features to the site every day. You can discover our artists, view their original works and buy through our marketplace right now. Soon we are adding your ability to create an account, follow your favorite artists and favorite works.
Sign up here for updates: