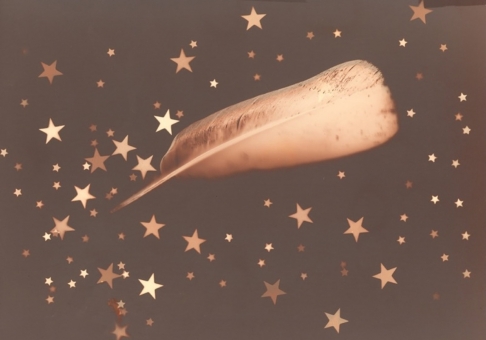 The Starry Lumen collection combines natural objects and cultural symbols with starry stars to represent thoughts, dreams and reality of modern life using a 19th century photographic process. A lumen print is a solar photogram that uses sunlight to imprint an image on undeveloped photographic paper. This series is inspired by our wondrous world and how we choose to see it and its possibilities.
A sparkly Lumen print reproduction originally created with black and white photo paper, a feather, metallic stars and the sun!
5" x 7"
Shipping cost: $10.00

I am a photographer and songwriter living in New Orleans. My photographic works use a variety of mediums - lumen printing, a 19th century photo process, 35mm and a smidge of digital - 20th and 21st century processes respectively. My photographic adventures began with 35mm film in 1999. I learned how to shoot by how to print so the two go hand in hand for me. I quickly became interested in hand coloring photographs and alternative styles of printing, making solarizations and using liquid emulsion. Years later, inspired by the need to recycle the boxes of expired photo paper tucked away in my kitchen cabinets, I began working with the lumen print process. Using only sunlight to imprint the image on to photographic paper, a lumen print captures the natural and pure beauty of our world. I was hooked from the first lumen print I made, and am always exploring new subjects and techniques within this process.

As a songwriter I write and perform songs that tell the tale of the world as I know it, sometimes creating narratives that merge my photographs and songs into a one-woman multimedia performance, the most recent being a chronicle of my World Tour, "Louisiana - the State of My World".


Natasha Sanchez is a New Orleans artist living and working in the Lower Garden District neighborhood.

LOWER GARDEN DISTRICT
YOU MAY ALSO LIKE
meet the artists
We are a community of New Orleans visual artists. We are painters, sculptors, fashion & jewelry designers.
We are craftsman and metal workers, illustrators and printmakers.
We make and create original & one of a kind artworks handcrafted right here in New Orleans.
Where Y'Art is a community of lovers and creators of New Orleans art.
CREATORS OF ART
Where Y'Art is a curated community of New Orleans artists, craftsmen and designers seeking to connect with buyers and each other. At Where Y'Art, you'll have more sales opportunities and access to entrepreneurial resources to grow your creative business.
Email us for more information: info@whereyart.net
LOVERS OF ART
At Where Y'Art, you will meet the people creating art, discover their passions and learn their stories. You might even buy something. So Discover New Orleans art. Follow New Orleans artists and Shop the art of our community.
We launched recently and are adding features to the site every day. You can discover our artists, view their original works and buy through our marketplace right now. Soon we are adding your ability to create an account, follow your favorite artists and favorite works.
Sign up here for updates: