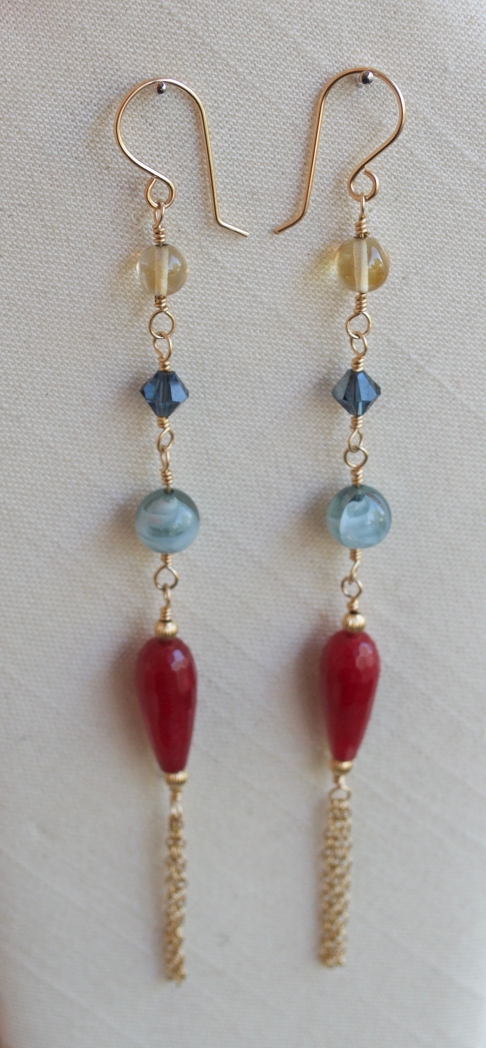 Luscious Long Earrings
2017
Go big or go home. These luscious long earrings are inspired by the whimsical excess of Burlesque. Crafted in gold fill and semi-precious stones, these earrings will look great and feel great as they swing gracefully from your ears.
14K gold-fill, citrine, Swarovski crystal, Murano glass, ruby and a handcrafted tassel of 14K gold-fill chain
4-1/2 inch drop
Shipping cost: $5.00

A mostly self-taught wire jewelry artist, I have lived in New Orleans for about 25 years and love to create pieces that reflect my love of the home that has adopted me.

My Louisiana Live Oak collection of wearable wire sculpture came into being after Katrina when I wanted to create jewelry not just beautiful, but meaningful. This work gained recognition from the Times-Picayune which named me one of the "Best New Artists" at the 2014 New Orleans Jazz and Heritage Festival.

I am currently hard at work on creating more flora and fauna of Louisiana, but in the meantime I could not resist the other temptations around me. Check out my newest collection of luscious long earrings inspired by the whimsical excess of Burlesque!

Renee Dodge is a New Orleans artist living and working in Bywater.
MARIGNY
YOU MAY ALSO LIKE
meet the artists
We are a community of New Orleans visual artists. We are painters, sculptors, fashion & jewelry designers.
We are craftsman and metal workers, illustrators and printmakers.
We make and create original & one of a kind artworks handcrafted right here in New Orleans.
Where Y'Art is a community of lovers and creators of New Orleans art.
CREATORS OF ART
Where Y'Art is a curated community of New Orleans artists, craftsmen and designers seeking to connect with buyers and each other. At Where Y'Art, you'll have more sales opportunities and access to entrepreneurial resources to grow your creative business.
Email us for more information: info@whereyart.net
LOVERS OF ART
At Where Y'Art, you will meet the people creating art, discover their passions and learn their stories. You might even buy something. So Discover New Orleans art. Follow New Orleans artists and Shop the art of our community.
We launched recently and are adding features to the site every day. You can discover our artists, view their original works and buy through our marketplace right now. Soon we are adding your ability to create an account, follow your favorite artists and favorite works.
Sign up here for updates: