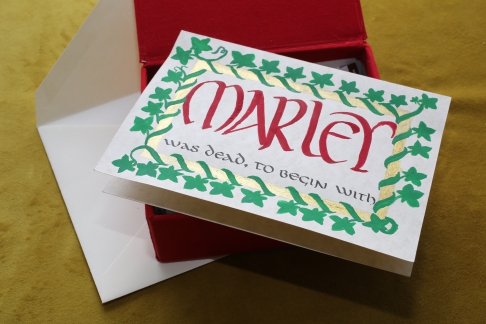 Christmas card (Marley)
2013
Send someone special a hand-lettered Christmas card! This one features the opening line from Dickens' "A Christmas Carol," surrounded by an ivy-wrapped gold border. The inside reads, "May the Spirit of Christmas -- Past, Present, and Yet to Come -- remain in your heart all year"
ink and gouache on parchment-textured cardstock
5" x 7"
Shipping cost: $2.00

Calligraphy is, for me, the art form that best engages both sides of my dual identity, scholar/writer and visual artist. Calligraphic work marries words and images to convey a message that neither could alone. My use of letter-forms and decorative elements from medieval manuscripts allows me to combine scholarly rigor with artistic imagination and expression. My work is heavily influenced by many years of active participation in the Society for Creative Anachronism, where I found both an outlet for my developing skills and a community of like-minded scholar-artists. Today, my work is nurtured by New Orleans' respect for a tradition in hand-made objects, and by the love of bright colors that infuses not only its architecture, but its language and storytelling as well.

Sondra Venable is a New Orleans artist living and working in the Uptown neighborhood.

UPTOWN
YOU MAY ALSO LIKE
meet the artists
We are a community of New Orleans visual artists. We are painters, sculptors, fashion & jewelry designers.
We are craftsman and metal workers, illustrators and printmakers.
We make and create original & one of a kind artworks handcrafted right here in New Orleans.
Where Y'Art is a community of lovers and creators of New Orleans art.
CREATORS OF ART
Where Y'Art is a curated community of New Orleans artists, craftsmen and designers seeking to connect with buyers and each other. At Where Y'Art, you'll have more sales opportunities and access to entrepreneurial resources to grow your creative business.
Email us for more information: info@whereyart.net
LOVERS OF ART
At Where Y'Art, you will meet the people creating art, discover their passions and learn their stories. You might even buy something. So Discover New Orleans art. Follow New Orleans artists and Shop the art of our community.
We launched recently and are adding features to the site every day. You can discover our artists, view their original works and buy through our marketplace right now. Soon we are adding your ability to create an account, follow your favorite artists and favorite works.
Sign up here for updates: