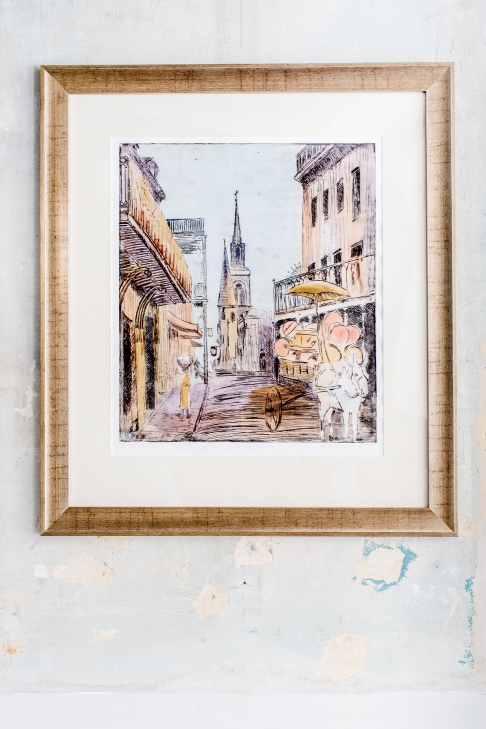 Atelier Frances Swigart
St. Louis Cathedral
2016
I have a sense of place in the French Quarter, where my aunt had a home since the 70's. My aunt, Betty Lemarie, hosted family gatherings and taught us the history of French Quarter. The stewardship was passed to me. As a grandmother, I know I need to teach and provide that sense of place for my grandchildren and maintain it for my children. This image recalls a French Quarter before my time. My Great Grandmother, Angelina Cietcovitch, lived in the French Quarter also. Perhaps this would be a familiar scene for her. These legacies are most often nurtured by women.
Watercolor Etching
37' x 42" framed
Shipping cost: $0.00

Atelier Frances Swigart has been a source for me as a designer, an architect, and a collector for 40 years. I create original work, both prints and paintings. I print and sign each limited edition. These are traditional intaglio and relief prints, not reproductions. Most are on handmade paper, often water colored. My paintings are oil on gold and silver, and copper leaf on wood.

Frances Swigart is a New Orleans artist living and working in the East Carrollton neighborhood.
EAST CARROLLTON
YOU MAY ALSO LIKE
meet the artists
We are a community of New Orleans visual artists. We are painters, sculptors, fashion & jewelry designers.
We are craftsman and metal workers, illustrators and printmakers.
We make and create original & one of a kind artworks handcrafted right here in New Orleans.
Where Y'Art is a community of lovers and creators of New Orleans art.
CREATORS OF ART
Where Y'Art is a curated community of New Orleans artists, craftsmen and designers seeking to connect with buyers and each other. At Where Y'Art, you'll have more sales opportunities and access to entrepreneurial resources to grow your creative business.
Email us for more information: info@whereyart.net
LOVERS OF ART
At Where Y'Art, you will meet the people creating art, discover their passions and learn their stories. You might even buy something. So Discover New Orleans art. Follow New Orleans artists and Shop the art of our community.
We launched recently and are adding features to the site every day. You can discover our artists, view their original works and buy through our marketplace right now. Soon we are adding your ability to create an account, follow your favorite artists and favorite works.
Sign up here for updates: