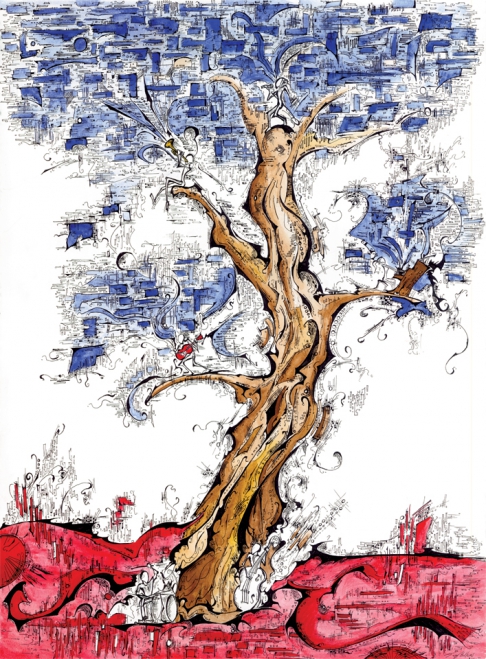 A Lesson in music using trees as a metaphor. In this case the drums and bass are the roots of the tree, the rhythm section in the middle and the melody is the leaves on the tree on top.
Print of Watercolor and Ink on Paper
22" x 30"
Shipping cost: $8.00

I grew up in a construction based family and spent a number of weekends and summers working on job sites installing HVAC duct work. During this time I started playing bass and studied architecture in a technical high school. I eventually went to college for it but then changed my courses because I was terrible at math, I switched to studying art. It was around this time I started becoming extremely obsessed with music . I got into a college radio show, started playing in bands, and hosted open mic nights. It was my senior year, while doing my thesis on Chinese landscape painting, that I started using music in art. Notably, using my bass amp to move things around a canvas which made for a great mess and a neat live show, but I kept evolving from there.

I finished with a B.A. in art and stayed with music re-attending school in Boston to get a degree in audio production and recording. I joined a new band that spent the next five years playing around the Northeast. During this time, I was drawing a fair amount and kept tweaking my style. It wasn't until I neared the end of those five years that I really became interested in drawing and painting.

I eventually left the band and moved to New Orleans where I decided to focus on my art instead of music; I've never regretted it since. I've been having a blast drawing sound and music and selling my work in New Orleans at the French Market and now the Frenchmen Art Market. I'm proud to say I am currently in my fourth year of that now.

Tony Hollums is a New Orleans artist living and working in the Marigny neighborhood.
MARIGNY
YOU MAY ALSO LIKE
meet the artists
We are a community of New Orleans visual artists. We are painters, sculptors, fashion & jewelry designers.
We are craftsman and metal workers, illustrators and printmakers.
We make and create original & one of a kind artworks handcrafted right here in New Orleans.
Where Y'Art is a community of lovers and creators of New Orleans art.
CREATORS OF ART
Where Y'Art is a curated community of New Orleans artists, craftsmen and designers seeking to connect with buyers and each other. At Where Y'Art, you'll have more sales opportunities and access to entrepreneurial resources to grow your creative business.
Email us for more information: info@whereyart.net
LOVERS OF ART
At Where Y'Art, you will meet the people creating art, discover their passions and learn their stories. You might even buy something. So Discover New Orleans art. Follow New Orleans artists and Shop the art of our community.
We launched recently and are adding features to the site every day. You can discover our artists, view their original works and buy through our marketplace right now. Soon we are adding your ability to create an account, follow your favorite artists and favorite works.
Sign up here for updates: