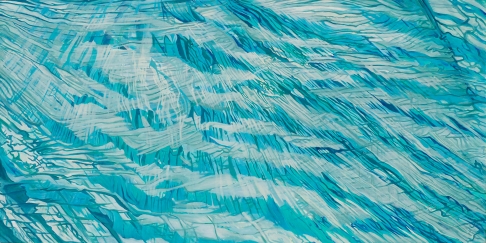 This is my second piece in the series "Water" in which I exhibit three distinct sets of movement. This piece out of all four creates urgency, like water flowing and gushing through the cracks. In this series, my process starts by aerially exploring the Northern Hemisphere on Google Earth and observing the frozen tundra. By focusing in on the texture of the terrain I noticed that grooves in the icy earth exhibit elaborate patterns. In Photoshop, I began to layer these grooves to create movement reminiscent of water. Each layer, like in a stream, represents different channels of movement. After creating compositions using this process of discovery I render them into paintings, with each digital layer representing a layer on the canvas. While writing about this series I realized that I discovered a natural process called supraglacial hydrology, which is the annual melt of glaciers. As the glacier runs off it creates streams depositing glacial sediments and reworking the glacial landforms. I find that this process illustrates a parallel idea of which I am pursuing within this series. The topography moves and reworks itself over and over again creating a unique moment, a static ripple of water. Together each unique layer in these paintings exhibit the feeling of water. Water is, itself, an emotionally evocative subject, especially of those who live all their lives near it and are affected by it. When I discovered this process, Southern Louisiana - a place I call home - has been flooded from excessive rain. With the rapid pace of coastal erosion and sea levels rising, there is no doubt water will play an increasingly significant role in our future. As the glaciers move change, melt, refreeze and melt again that water flows to us; we as a species have to adapt to this process.
Acrylic and Gel Medium on Canvas
48" x 96"
Shipping cost: $300.00

Anne Blenker spent her earliest years in Santa Rosa, California where she was informed by the natural beauty of the Pacific coastline. At 14 she moved to Lafayette, LA where she attended the Lafayette Parish High School Arts Academy program under teacher Kathy Reed. She then studied fine arts painting at Pratt Institute in New York City. After moving to New Orleans in 2013 she discovered a fascination with aerial topography. Her work draws on the ever-shifting contemporary landscape for inspiration, seeking to understand the processes and the changes they create. She has shown in New Orleans at Parse Gallery and Brand Gallery among others.

Instagram | @anneblenker
MARIGNY
meet the artists
We are a community of New Orleans visual artists. We are painters, sculptors, photographers & illustrators.
We are craftsmen and metal workers, printmakers and textile artists.
We make and create original & one of a kind artworks handcrafted right here in New Orleans.
Where Y'Art is a tool to discover, shop and experience the best of
New Orleans art online.
ART CONSULTING
Where Y'Art Works is an art consulting company and New Orleans artist collective that works with industry professionals to infuse art into the vision of your project. With our extensive network, technology and resources, Where Y'Art Works is a single point of contact for all of your art needs, delivered on time and in budget.
CREATORS OF ART
Where Y'Art is a curated community of New Orleans artists, craftsmen and designers seeking to connect with buyers and each other. At Where Y'Art, you'll have more sales opportunities and access to commercial opportunities to grow your creative business.
Apply now, or email us for more information: hello@whereyart.net
LOVERS OF ART
Where Y'Art curates an online gallery where you can meet over 100 New Orleans artists — from painters to sculptors, craftsmen and jewelry designers — discover their passions and learn their stories. It's a 24-hour meeting place where the artist is always present and the wall space knows no limits.
If you're in New Orleans, Louisiana, pay us a visit at the Where Y'Art Gallery, 1901 Royal Street 70116 in the historic Faubourg Marigny neighborhood or call 504 325-5672
Sign up here for updates: