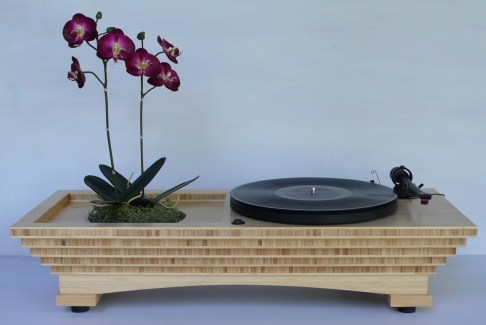 Audiowood
Audiowood Sound Garden Turntable
2014
The Sound Garden is a combination planter and turntable, designed to house a bonsai, orchid, or other small plant (depending on light conditions). It is constructed out of solid sustainably-produced bamboo and finished with hand-rubbed polyurethane and paste wax. It features a dependable parts kit by Music Hall Audio, including a Music Hall Tracker cartridge. It is ready for use as a good quality turntable. Approximate size is 30"w x 13"d x 9"h without plant. This particular turntable is for sale, as is, in the US only, but other custom versions are available, including one with Rega parts (recommended), ebonized black finish, international versions, etc. The Sound Garden is made in the USA and is warranted for 2 years from time of purchase against defects in manufacture and assembly, not including cartridge.
Bamboo, Steel, Aluminum
30" x 13" x 9" (without plant)
Shipping cost: $100.00

I'm a designer and woodworker.
I was born and raised in suburban Florida. After high school I got as far away from malls and subdivisions as possible, studying the arts - visual art, design, architecture, literature, aesthetic theory - in Western New York, New York City, and Europe. I almost became an architect, almost became a professional academic, and almost became a non-profit civil rights worker. I earned degrees in Art History and English (BA, Hobart), English (MA, Carnegie Mellon), and Media Studies (Ph.D., Pitt). Somewhere along the way, the desire to make things with my hands took over, and I shifted away from academic issues towards the production of physical objects.
Since 1997 I've worked consistently as a design and build carpenter/woodworker. In 2008 I started building handmade audio equipment, which I make under the name Audiowood.
I think of most of my works as small acts of architecture: things that stand on their own, and that suggest an entire way of living. I picture each of my products standing alone in a big, all-white loft in New York City; woody, but not necessarily woodsy.
Since 2008, I've had the privilege of working with clients like Anthropologie, Bushmills, Paramount Pictures, and various A-List celebrities. Audiowood products have been featured in dozens of major international publications like The New York Times, Wired (Germany), California Home and Design, and Velvet (Italy), and online from Gizmodo to DesignBoom to Metal and dozens of other blogs. Locally, I was named a "Person to Watch" by New Orleans Magazine, was awarded the "Most Unique Work" award in Contemporary Crafts at the 2015 and 2018 New Orleans Jazz and Heritage Festival, and most recently, won "Best in Show" at the Green Project's Salvations show of furniture made from reclaimed materials.
I've lived in the Lower 9th Ward and the 7th Ward, and currently live in the Lower Garden District.
HOLY CROSS
meet the artists
We are a community of New Orleans visual artists. We are painters, sculptors, photographers & illustrators.
We are craftsmen and metal workers, printmakers and textile artists.
We make and create original & one of a kind artworks handcrafted right here in New Orleans.
Where Y'Art is a tool to discover, shop and experience the best of
New Orleans art online and in person.
CREATORS OF ART
Where Y'Art is a curated community of New Orleans artists, craftsmen and designers seeking to connect with buyers and each other. At Where Y'Art, you'll have more sales opportunities and access to commercial opportunities to grow your creative business.
Email us for more information: hello@whereyart.net
LOVERS OF ART
Where Y'Art curates an online gallery where you can meet over 100 New Orleans artists — from painters to sculptors, craftsmen and jewelry designers — discover their passions and learn their stories. It's a 24-hour meeting place where the artist is always present and the wall space knows no limits.
If you're in New Orleans, pay us a visit, 1901 Royal Street in the historic Faubourg Marigny neighborhood.
Sign up here for updates: