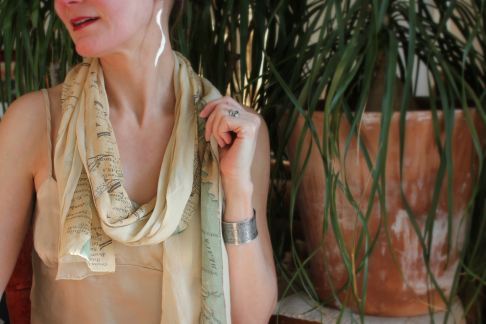 Mississippi River Silk Scarf
2017
The Father of the Water's scarf is made of a beautiful lightweight chiffon silk with a stunning drape. It is based on an 1866 "ribbon map" by Coloney & Fairchild featuring the Mississippi River from Vicksburg through Natchez, Baton Rouge and New Orleans - straight through to the Delta.    While the original "ribbon style" map in the 1800s covered the entire length of the Mississippi (2,600 miles) and was first sold to passengers on steamboats, the scarf starts just above Vicksburg and shows its fluidity and the fluctuating nature of the course as it and travels down to the Gulf of Mexico. It details the tributaries, towns, railroads, landings and other geographic information with great clarity. Ribbon maps were an interesting, new panoramic way of looking at terrain and recalled the panoramic craze in the early 1800's. This original map featured the entire river as one continuing strip 11 feet long, which was mounted as a scroll in a little case to uncurl. Please visit www.bcouvillion to experience the entire New Orleans collection.
Silk Scarf
72" x 8.8"
Shipping cost: $4.00

Hailing from New Orleans, I am inspired by the built environment around me and the various states of its decay, as well as the fleeting ephemera we often fail to appreciate each day.
My jewelry work comprising of metal etchings of historic New Orleans maps - some dating from as early as the 1700s culled from archives - make permanent an ephemeral aspect of our city's history.
From raw sheets of metal they transform into jewelry through an intensive, handcrafted process involving heat image transfers, various etchants, patinas and polishes, as well as hammer forming, ultimately becoming small, wearable archives in suspension.
This adornment immortalizes the transitory landscapes of New Orleans' history: from trade routes and forgotten swamps to abandoned asylums whose architectural residue still decorates the landscape today.
Ultimately, my work blurs the lines between the past and the present weaving the poetics of space with the fabric of time.
The complete collection can be viewed at www.bcouvillion.com.
LOWER GARDEN DISTRICT
YOU MAY ALSO LIKE
meet the artists
We are a community of New Orleans visual artists. We are painters, sculptors, fashion & jewelry designers.
We are craftsman and metal workers, illustrators and printmakers.
We make and create original & one of a kind artworks handcrafted right here in New Orleans.
Where Y'Art is a tool to discover, shop and experience the best of
New Orleans art online and in person.
CREATORS OF ART
Where Y'Art is a curated community of New Orleans artists, craftsmen and designers seeking to connect with buyers and each other. At Where Y'Art, you'll have more sales opportunities and access to commercial opportunities to grow your creative business.
Email us for more information: hello@whereyart.net
LOVERS OF ART
Where Y'Art curates an online gallery where you can meet over 100 New Orleans artists — from painters to sculptors, craftsmen and jewelry designers — discover their passions and learn their stories. It's a 24-hour meeting place where the artist is always present and the wall space knows no limits.
If you're in New Orleans, pay us a visit, 1901 Royal Street in the historic Faubourg Marigny neighborhood.
Sign up here for updates: