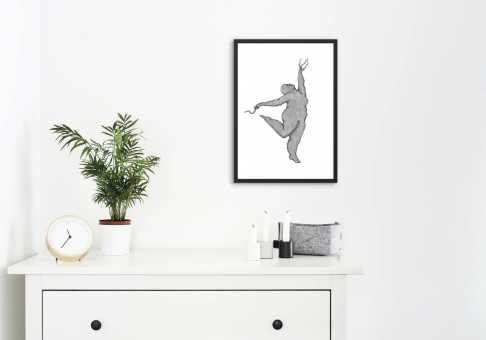 Ink Illustration Second in the Strength collection, Poise stands joy triumphant in her self-confidence. Joyful and strong, Poise represents the power of loving yourself. Larger bodies, curvy bodies, bulky and broad bodies.. these too, are strong and beautiful bodies. Love yourself.
Art Print
8 1/2" x 11" Sheet (Small)
Shipping cost: $5.00

Born in Louisiana's sleepy bayou country, I developed a deep love and respect for the natural environment. I realized that the relationship between human beings and the world that provides for them is sometimes delicate, sometimes chaotic, and sometimes beautiful. Growing up 'on the bayou' taught me how permeable the lines between those things could be. New Orleans has her own complicated relationship with nature, and since relocating here I've enjoyed exploring that intriguing dance along her streets. My interest in the grace and beauty of age also began early on. I fell head over heels for New Orleans and what I thought of as 'living patina.' Her charm, her imperfections, and her grit make every day interesting and inspiring. Through photography I'm able to capture this element of life: the neglected, the broken, the aged, and the unseen. There is a haunting beauty in the gnarls of the live oak, in the resurrection fern peeping out of brickwork, and in the abandoned graffiti-laden building basking in the twilight.
Although photography was my first interest, illustration and natural pigment art have taken center stage lately. Using wine, coffee, or homemade dyes made from vegetation or fruits, my illustrations are complemented by the unique color palette nature offers. This body of work explores themes of strength, femininity, and various causes I feel strongly about. Ultimately, my goal is to create art that speaks to people of all backgrounds, and art that brings awareness and advocacy for those who need it.
meet the artists
We are a community of New Orleans visual artists. We are painters, sculptors, photographers & illustrators.
We are craftsmen and metal workers, printmakers and textile artists.
We make and create original & one of a kind artworks handcrafted right here in New Orleans.
Where Y'Art is a tool to discover, shop and experience the best of
New Orleans art online and in person.
CREATORS OF ART
Where Y'Art is a curated community of New Orleans artists, craftsmen and designers seeking to connect with buyers and each other. At Where Y'Art, you'll have more sales opportunities and access to commercial opportunities to grow your creative business.
Apply now, or email us for more information: hello@whereyart.net
LOVERS OF ART
Where Y'Art curates an online gallery where you can meet over 100 New Orleans artists — from painters to sculptors, craftsmen and jewelry designers — discover their passions and learn their stories. It's a 24-hour meeting place where the artist is always present and the wall space knows no limits.
If you're in New Orleans, Louisiana, pay us a visit at the Where Y'Art Gallery, 1901 Royal Street 70116 in the historic Faubourg Marigny neighborhood. Or call +1 504 325-5672
Sign up here for updates: