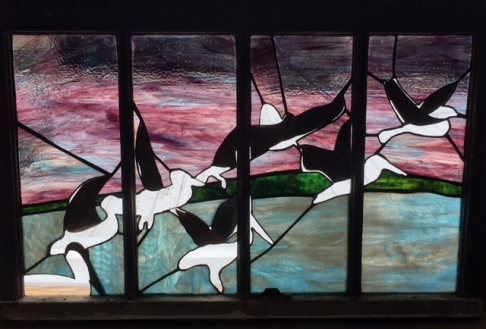 Paraph
Pelicans, stained glass window
2016
Pelicans remind us to take time to forge healthy relationships. Pelicans are patient, diligent, focused, and cooperative. They fish in groups, taking turns beating their wings on the surface of the water to school fish towards one another. Pelicans symbolize humility, generosity, camaraderie, and wisdom. Pelican is also a symbol of sacrifice, resurrection and nourishment. In fable, the mother Pelican pierces her own breast to feed her babies. This exaggerated telling of regurgitation has long associated Pelican with Christian self-offering. People who carry the Pelican totem are able to take in a lot of information at once and digest it with relative ease. They tend to be light, happy travelers. Additionally, Pelican people often hold thoughts to themselves and are reluctant to speak their opinions. Meditating on Pelican can ease this reluctance. As a bird of air and water, Pelican reminds us to dive equally deep into the mind and heart.
Glass, Copper. Copper wing details are 3 dimensional.
21" x 34"
Shipping cost: $65.00

I was raised in an old farmhouse in Maine, surrounded by plants, tools, animals, community, tumbling rock walls, and a decaying barn full of decades worth of friends' forgotten belongings. Those aesthetics translate well to the decay and growth of New Orleans; my work is at home here in the Deep South.
I run my restoration and design business, 'Paraph,' from my home studio in Uptown New Orleans. My business is dedicated to the rejuvenation of the stained glass trade by using traditional techniques inventively. I am passionate about plant medicine, cooking, gardening, story telling, and social justice. A career in art allows me to live joyfully. Pleasure, brought through inspiration and intellectual challenge, is a priority for me. I strive to share that pleasure with others through my sculpture.
My work is often either narrative or serves as a way to research new subjects. Through treatment of metal, wood, glass, clay and found objects, I explore the aesthetics of decay, vulnerability, and material and textural variation. In all of my work, I strive to blend patience with spontaneous decisions.
Please contact me about preserving wedding flowers (or any plant important to you) in glass, custom orders welcome! See more at caitlinwaugh.com and on instagram @caitlinezellwaugh
7TH WARD
meet the artists
We are a community of New Orleans visual artists. We are painters, sculptors, photographers & illustrators.
We are craftsmen and metal workers, printmakers and textile artists.
We make and create original & one of a kind artworks handcrafted right here in New Orleans.
Where Y'Art is a tool to discover, shop and experience the best of
New Orleans art online and in person.
CREATORS OF ART
Where Y'Art is a curated community of New Orleans artists, craftsmen and designers seeking to connect with buyers and each other. At Where Y'Art, you'll have more sales opportunities and access to commercial opportunities to grow your creative business.
Apply now, or email us for more information: hello@whereyart.net
LOVERS OF ART
Where Y'Art curates an online gallery where you can meet over 100 New Orleans artists — from painters to sculptors, craftsmen and jewelry designers — discover their passions and learn their stories. It's a 24-hour meeting place where the artist is always present and the wall space knows no limits.
If you're in New Orleans, Louisiana, pay us a visit at the Where Y'Art Gallery, 1901 Royal Street 70116 in the historic Faubourg Marigny neighborhood. Or call +1 504 325-5672
Sign up here for updates: