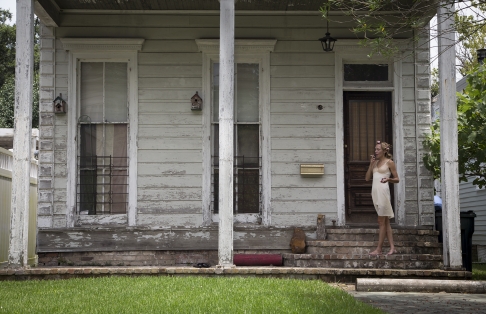 Character Study and Candy Cigarettes
2014
Local actor, Jennifer Lutheran (https://www.imdb.com/name/nm1851108/) takes to the streets to practice her lines- I've been working on an endemic cultural study on porches in New Orleans that has spanned the last three years. In an effort to capture what makes New Orleans different from the rest of the world I've photographed countless natives on their porch, the single architectural feat that separates the city from others serving as both historical, architectural documentation and an examination of the welcoming Creole lifestyle. The front porch has quietly dominated New Orleans culture for centuries. It's the epicenter of communication, invitation and leisure and a glimpse into the lifestyle that defines New Orleans. Past the beads, daquarius and rolling floats lies the culture of the everyday, the real spirit of the city. Explore these porch portraits as a cultural documentation of the character and substance that drives the vitality of New Orleans. This collection serves as a small glimpse into the soul of the individual New Orleanian. We love to sit on our porch, we love to open ourselves to our neighbors and we love our leisure time. These images are meant to make you think, 'Aha, THIS is New Orleans... and I couldn't find it on Bourbon Street.'
Fine Art Print- Luster finish
12" x 18"
Shipping cost: $20.00

Curiosity has driven nearly every aspect of my existence. I have an immense fascination with the natural world that fuels my motivation to create, learn and understand. I'm on an epic quest to visually document the things on this planet that make the world interesting; what makes people different, how people live, how we're similar and what could be learned from it all. You can call me a photographer, but I'm not as interested in taking your picture as I am interested in capturing who you are. I make compositional photographs as a means to satisfy my urge to create visually compelling documentations to describe an aspect of culture, examine the beauty of science, and ultimately share my lens of compassion, understanding, and innate worldly intrigue with others.
meet the artists
We are a community of New Orleans visual artists. We are painters, sculptors, fashion & jewelry designers.
We are craftsman and metal workers, illustrators and printmakers.
We make and create original & one of a kind artworks handcrafted right here in New Orleans.
Where Y'Art is a tool to discover, shop and experience the best of
New Orleans art online and in person.
CREATORS OF ART
Where Y'Art is a curated community of New Orleans artists, craftsmen and designers seeking to connect with buyers and each other. At Where Y'Art, you'll have more sales opportunities and access to commercial opportunities to grow your creative business.
Email us for more information: hello@whereyart.net
LOVERS OF ART
Where Y'Art curates an online gallery where you can meet over 100 New Orleans artists — from painters to sculptors, craftsmen and jewelry designers — discover their passions and learn their stories. It's a 24-hour meeting place where the artist is always present and the wall space knows no limits.
If you're in New Orleans, pay us a visit, 1901 Royal Street in the historic Faubourg Marigny neighborhood.
Sign up here for updates: