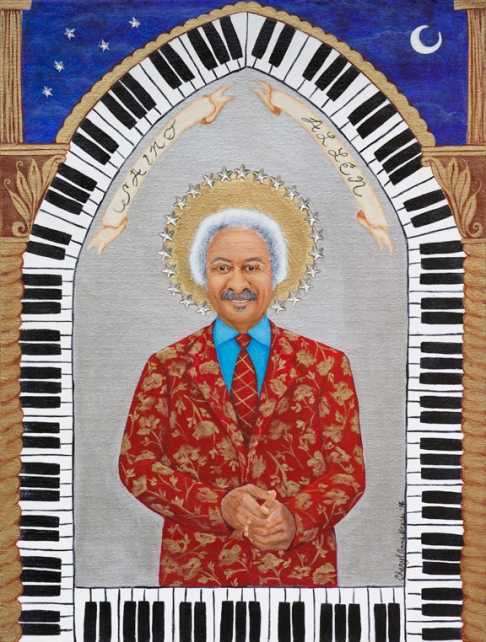 Saint Allen (Limited Edition Print)
2016
Limited edition of 100 prints of Saint Allen , signed and numbered, archival pigment print on hot-press 100% cotton rag paper My Saints series, a collection of iconic New Orleans musicians , commemorates their role in the evolution of the eccentric culture and music traditions of New Orleans. All depicted in this series are exemplify the joie de vivre that runs through all aspects of life here in all of its diversity. Allen Toussaint was a musical genius who died at 77 years old in November 2015 while on tour in Madrid. The always elegantly dressed Mr. Toussaint was a legendary songwriter, pianist, producer, and bandleader. Some of his best known classics are "Working in the Coal Mine," "Mother-in-Law," "It's Raining" and "Southern Nights". In 1985 Mr. Toussaint co-founded New Orleans Artists Against Hunger and Homelessness. He was inducted into the Rock and Roll Hall of Fame in 1988, the Louisiana Music Hall of Fame in 2009, and the Blues Hall of Fame in 2011. In 2013, he received the National Medal of Arts from President Barack Obama.
Archival pigment print on hot-press 100% cotton rag paper
14" x 11"
Shipping cost: $15.00

Moving to New Orleans on my own in 2009 finally gave me the time and space I needed to endlessly paint.  I never run out of inspiration in this vibrant and magical city that enraptures  me with its deep, rich history, cherished architecture, music that begs you to stop and listen, colorful neighborhoods, mystery, and eccentric characters.  I paint for people with soul!  I paint New Orleans, points beyond, and imaginary places. I grew up very much alone, an only child, with a mother who was mostly absent, physically and emotionally.  My imagination was such an integral part of my childhood and created the wonderful solitary world in which I lived. That gift has carried through to my adult life and fed my need to create. I am a self taught artist and I spend as much time researching and studying art as I do painting it. Traveling always includes visits to the great art museums of the world.
My work is done in the studio,  from photos I take constantly while making my way around town, preferring the path less traveled, and from compositions that I create in my imagination.  The iconic musicians and culture bearers paintings are created from extensive research and by using as many as 20 images to uniquely portray each one.  My work is in private collections across the country, Puerto Rico, Scotland, and the permanent public collection of the LSU Health Sciences Center and most recently, the new Eliza Jane Boutique Hotel restaurant, Couvant.  I was selected for the 2017 Bywater Biennial exhibition curated by Don Marshall, a Prospect 4 Satellite exhibit, as well as a Prospect 4 Satellite exhibit curated by Where Y'art. My work has also been selected and shown by the New Orleans Arts Council and featured on the cover and inside front page of the 2018 April quarterly issue of "The Iron Lattice," an arts and culture magazine.  I have regularly exhibited for the past 6 years as a featured artist at Ariodante Gallery in the Arts District of New Orleans, but am currently not affiliated with a gallery.  I also show my work at exhibits curated by Where Y'art for public spaces and local galleries.
I do not create art to match the sofa!  My intention is that  you experience joy, amusement, sentimentality, some lesser known places in New Orleans, a few points beyond, and the places that are born in my imagination.
Commissions welcome!
All work is copyrighted and may not be reproduced in any form without permission of the artist.
I am a New Orleans artist living and working in the Uptown area.
UPTOWN
YOU MAY ALSO LIKE
meet the artists
We are a community of New Orleans visual artists. We are painters, sculptors, fashion & jewelry designers.
We are craftsman and metal workers, illustrators and printmakers.
We make and create original & one of a kind artworks handcrafted right here in New Orleans.
Where Y'Art is a tool to discover, shop and experience the best of
New Orleans art online and in person.
CREATORS OF ART
Where Y'Art is a curated community of New Orleans artists, craftsmen and designers seeking to connect with buyers and each other. At Where Y'Art, you'll have more sales opportunities and access to commercial opportunities to grow your creative business.
Email us for more information: hello@whereyart.net
LOVERS OF ART
Where Y'Art curates an online gallery where you can meet over 100 New Orleans artists — from painters to sculptors, craftsmen and jewelry designers — discover their passions and learn their stories. It's a 24-hour meeting place where the artist is always present and the wall space knows no limits.
If you're in New Orleans, pay us a visit, 1901 Royal Street in the historic Faubourg Marigny neighborhood.
Sign up here for updates: