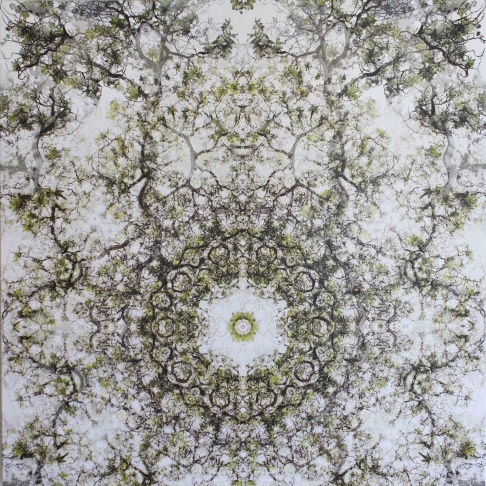 In this series of work that I generally call Mandalas, I experimented with radial geometries. These pieces are composed of photographs and digital collages tessellated in multiple geometries. From pentagons to do-decahedrons, these images play with overlays of geometry. I think of them as radial rhythms. Just like a song might be in 7/8 time signature, each of these compositions has its own rhythmic signature. Like in music, the pieces that are dominated by an even number (and especially 4 and 8) appear resolved and still, while the compositions emphasizing odd numbers (5, 7, 9) have a greater sense of movement and uncertainty. "Forest Cathedral" is a giclee print on canvas 40" x 40" on which I then painted. Smaller prints are also available upon request. Larger commissions of this piece as a mixed media painting on birch panel (gel transfer + acrylic + resin) are also available. Please contact me for more information if you are interested.
Giclee and acrylic on Canvas
40" x 40"
Shipping cost: $150.00

I am a New Orleans and Minneapolis-based artist from Lafayette, LA. I studied art at Brown and RISD, graduating from Brown in  2013. I moved to New Orleans after graduation, where I practiced art alongside a career in graphic design, community engagement, and architectural design. I've shown my in galleries in south Louisiana and Mississippi. Currently, I am pursuing an M.Arch and an MLA degree at the University of Minnesota in Minneapolis. My art work is inspired by the patterns in nature and the manner in which our minds filter, remember, transform, and represent our experiences.
UPTOWN
meet the artists
We are a community of New Orleans visual artists. We are painters, sculptors, photographers & illustrators.
We are craftsmen and metal workers, printmakers and textile artists.
We make and create original & one of a kind artworks handcrafted right here in New Orleans.
Where Y'Art is a tool to discover, shop and experience the best of
New Orleans art online.
ART CONSULTING
Where Y'Art Works is an art consulting company and New Orleans artist collective that works with industry professionals to infuse art into the vision of your project. With our extensive network, technology and resources, Where Y'Art Works is a single point of contact for all of your art needs, delivered on time and in budget.
CREATORS OF ART
Where Y'Art is a curated community of New Orleans artists, craftsmen and designers seeking to connect with buyers and each other. At Where Y'Art, you'll have more sales opportunities and access to commercial opportunities to grow your creative business.
Apply now, or email us for more information: hello@whereyart.net
LOVERS OF ART
Where Y'Art curates an online gallery where you can meet over 100 New Orleans artists — from painters to sculptors, craftsmen and jewelry designers — discover their passions and learn their stories. It's a 24-hour meeting place where the artist is always present and the wall space knows no limits.
If you're in New Orleans, Louisiana, pay us a visit at the Where Y'Art Gallery, 1901 Royal Street 70116 in the historic Faubourg Marigny neighborhood or call 504 325-5672
Sign up here for updates: