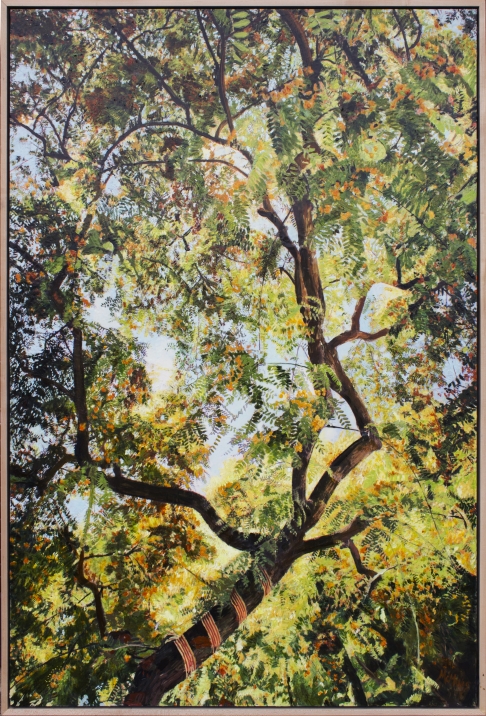 The Tipu Tree, also known as Tipuana Tipu or Rosewood, is a South American tree of a genus all to its own that lines the streets of Barcelona, Spain. Incredibly graceful and elegant, these trees tower over the grid of mostly 6-story buildings that stand shoulder to shoulder. They provide shade over the front balconies characteristic of Barcelona, and in early summer, they blossom small golden flowers that lend the street below a mystical glow. When I visited in early June of 2015, I stayed on one such street in the medieval part of the city. These trees colored our visit, and those little flowers carpeted the sidewalks. When I came upon this particular tree, in a small plaza not far from the sea, I knew at once that I was going to paint it. It's stance, the light, the rope banding its lower trunk, and those little golden flowers, sometimes flashing orange, sometimes yellow. Beholding it was similar to standing inside Gaudi's Sagrada Familia - an utter masterpiece of nature. For that reason this same image is layered into my other piece of the same size: Ascending Current.
Gel transfer and acrylic on birch panel, in a maple floater frame.
60" x 40"
Shipping cost: $300.00

I am a New Orleans-based artist from Lafayette. In 2013, I graduated from Brown University with Honors in Visual Art and Urban Studies. Since then, I have split my time between making art and working at a planning and design firm where I focus on graphic design, architectural design, and community engagement around coastal issues. I've shown my work at Lounge Gallery in Lafayette, Perch, Where Y'art, and Old 77 Hotel and Chandlery in New Orleans, and View Gallery in Mississippi.
My artwork is inspired by the forms repeated throughout nature – the structures of trees, rivers, and plant leaves; the grown networks of cities as seen from above; and the beautiful harmonics found in color, sacred geometry, and music. Much of my work blends these natural inspirations with cultural ones. I draw from the great aesthetic contributions of world religions and philosophies of life. I enjoy gardening, building furniture, admiring architecture, rock climbing, and traveling with my camera. I live with my wife and our three cats in an old craftsman house in the Milan neighborhood of New Orleans.
UPTOWN
meet the artists
We are a community of New Orleans visual artists. We are painters, sculptors, photographers & illustrators.
We are craftsmen and metal workers, printmakers and textile artists.
We make and create original & one of a kind artworks handcrafted right here in New Orleans.
Where Y'Art is a tool to discover, shop and experience the best of
New Orleans art online and in person.
CREATORS OF ART
Where Y'Art is a curated community of New Orleans artists, craftsmen and designers seeking to connect with buyers and each other. At Where Y'Art, you'll have more sales opportunities and access to commercial opportunities to grow your creative business.
Apply now, or email us for more information: hello@whereyart.net
LOVERS OF ART
Where Y'Art curates an online gallery where you can meet over 100 New Orleans artists — from painters to sculptors, craftsmen and jewelry designers — discover their passions and learn their stories. It's a 24-hour meeting place where the artist is always present and the wall space knows no limits.
If you're in New Orleans, Louisiana, pay us a visit at the Where Y'Art Gallery, 1901 Royal Street 70116 in the historic Faubourg Marigny neighborhood. Or call +1 504 325-5672
Sign up here for updates: