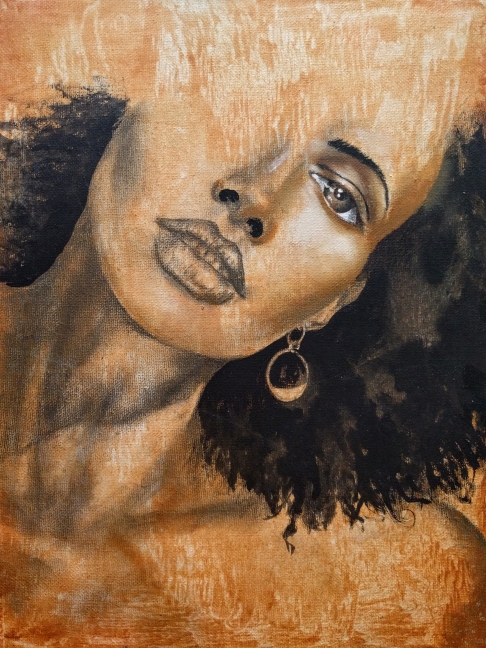 Residual Being (Residual Self)
2017
Residual Being is a painting that represents traces of former selves washing away. Our souls sometimes need cleansing to have clarity. This painting is showing the wonder of the moment the soul is free from past lives. And she is experiencing her inner peace.
Oil, Acrylic, Pencil, Ink on Canvas
14" x 11"
Shipping cost: $15.00

As an artist, I believe everyone has a story that we don't normally comprehend at first glance. I paint my subjects from the quietness of their soul. Most times it's a reflection of my own soul landing onto the material. I collect hundreds of images, and as I create my textural backgrounds, I sort out what I'm going to bring forth. This process is intermittent and timely. It could take hours, days, months or even years for me to complete a painting based on mood, the image and the release within my mind and soul.
I have four series that I work on simultaneously and sometimes fusing two or three series together.
Most recent is the "Barna Black" series which originated in Barcelona, Spain while I attended an artist residency and it consists of drawing with a simple sliver of silver (also known as silverpoint) over a black background of charcoal and/or black chalk. The silver illuminates the bold statement of the impression of afflictions and reflections of light on the skin. This technique dates back to Leonardo Da Vinci and the Italian Renaissance.
"The One-Eyed Tulips" consisting of the subject(s) having one eye and two lips. This series is based on the perception of what the subject is versus the value of the truth of the subject's story.
"The Beauty Beyond the Brown Paper Bag Test" series is based on the African American historical symbolism of the utilization of the brown paper bag. It was used in the practice of skin color discrimination in the African-American communities in the deep southern states of the US especially in the state of Louisiana. The brown paper bag was used as an identification card to gain access to parties, some churches, some fraternities and sororities, nightclubs, etc. If a person was darker than the brown paper bag that was placed at the entrance of the place or event then that person was denied access.
"The Transcendence" series is a series that is incorporating the value of the human soul growing and evolving into a higher being of magnificence. To know that there is a better consciousness of self.
Brief Bio
Lammie-Hanson is an autodidactic African American artist who was born and raised in Harlem, New York City. Her love for creating art started at age 5 with a pencil and paper and stick figures. She attended Hudson Valley Community College and SUNY Albany for Psychology. She has exhibited with the United Nations, Geneva's Palais des Nations in Switzerland in support of their efforts to address global homelessness as well as having solo shows in NYC, Berlin, Germany, Atlanta GA, and New Orleans, LA. Lammie-Hanson was the artist of the year for Brooklyn Academy of Music's, BAM DanceAfrica 2007 in Brooklyn, NY and has shown with the NYC Health and Hospitals Art collection with three of her photographs in their permanent collection. Lammie-Hanson is a co-founder of the non-profit community artists' organization, South of the Navy Yard Artists, Inc. which is based in Brooklyn, NY. In New Orleans, Lammie-Hanson has shown with the LeMieux Galleries, Jazz and Heritage Foundation Gallery with the Women's Caucus of Arts (Louisiana Chapter) 'Femme Fest' and with the New Orleans' African American Museum "Pop-Up show. She has also exhibited at the Contemporary Arts Center, the Arts Council of New Orleans, Ashe Cultural Arts Center, the George and Leah McKenna Museum of African American Art, (2017) Ogden Museum of Southern Art, (2017)GW Carver Museum and the Wiregrass Museum of Art in Dothan, AL., (2018) Le Musee f .p. c. in New Orleans. 
meet the artists
We are a community of New Orleans visual artists. We are painters, sculptors, fashion & jewelry designers.
We are craftsman and metal workers, illustrators and printmakers.
We make and create original & one of a kind artworks handcrafted right here in New Orleans.
Where Y'Art is a tool to discover, shop and experience the best of
New Orleans art online and in person.
CREATORS OF ART
Where Y'Art is a curated community of New Orleans artists, craftsmen and designers seeking to connect with buyers and each other. At Where Y'Art, you'll have more sales opportunities and access to commercial opportunities to grow your creative business.
Email us for more information: hello@whereyart.net
LOVERS OF ART
Where Y'Art curates an online gallery where you can meet over 100 New Orleans artists — from painters to sculptors, craftsmen and jewelry designers — discover their passions and learn their stories. It's a 24-hour meeting place where the artist is always present and the wall space knows no limits.
If you're in New Orleans, pay us a visit, 1901 Royal Street in the historic Faubourg Marigny neighborhood.
Sign up here for updates: