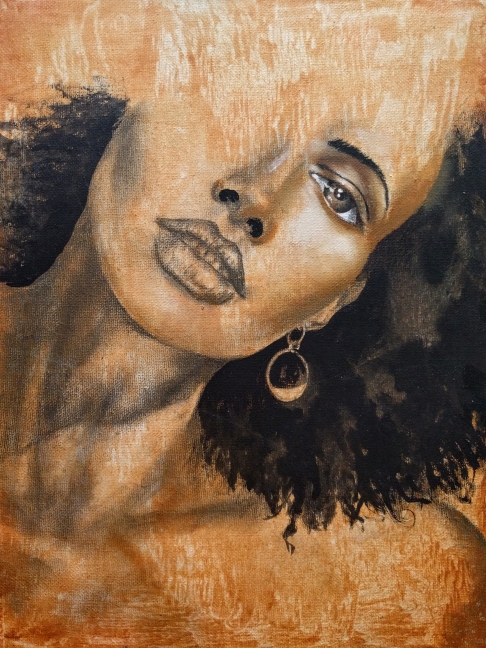 Residual Being (Residual Self)
2017
Residual Being is a painting that represents traces of former selves washing away. Our souls sometimes need cleansing to have clarity. This painting is showing the wonder of the moment the soul is free from past lives. And she is experiencing her inner peace.
Oil, Acrylic, Pencil, Ink on Canvas
14" x 11"
Shipping cost: $15.00

D. Lammie-Hanson is a contemporary portrait expressionist. Her emphasis is primarily on the psyche of the individual soul. These subjects invoke a yearning to communicate their personal story. In her recent series "Dared To Be... A Silverpoint Soulful Experience" which took Lammie-Hanson a full year to create, she meticulously drew 25 contemporary celebrity portraits of people of color who performed over the past 25 years of the Essence Festival with silver wire against black surfaces of wood, plexiglass and canvas. This series celebrates the silver anniversary of the Essence Festival in New Orleans. Her goal was to celebrate black and brown skin as precious as the metal it was created in. This series is the 3rd generation of silverpoints of her "series" collection. The first generation of silverpoints is called the "Barna Black" series and it was created at the artist residency program, Mas Els Igols, in Barcelona Spain. Lammie-Hanson's use of a simple wire of silver drawn over a black background makes a bold statement of impression of expressions, afflictions and reflections of light on the skin. 
Lammie-Hanson is an autodidactic African American artist who is known for her series, "The One Eyed Tulips" and "The Beauty Beyond the Brown Paper Bag Tests".  Born in Harlem, New York City, she attended Hudson Valley Community College and SUNY Albany for Psychology. Her love of creating art started at age 5. She has exhibited with the United Nations, Geneva's Palais des Nations in Switzerland in support of their efforts to address global homelessness as well as having solo shows in NYC, Berlin, Germany, Atlanta GA and New Orleans, LA. Lammie-Hanson was the artist of the year for Brooklyn Academy of Music's, BAM DanceAfrica 2007 in Brooklyn, NY and has shown with the NYC Health and Hospitals Art collection with three of her photographs in their permanent collection. Lammie-Hanson is a co-founder of the non-profit community artists' organization, South of the Navy Yard Artists, Inc. which is based in Brooklyn, NY.  
In New Orleans, Lammie-Hanson has shown with the LeMieux Galleries, Jazz and Heritage Foundation Gallery with the Women's Caucus of Arts (Louisiana Chapter) 'Femme Fest' and with the New Orleans' African American Museum "Pop-Up show. She has also exhibited at the Contemporary Arts Center, the Arts Council of New Orleans, Ashe Cultural Arts Center, the George and Leah McKenna Museum of African American Art, (2017) Ogden Museum of Southern Art, (2017/2018) GW Carver Museum and the Wiregrass Museum of Art in Dothan, AL., (2017) Bombay Sapphire Artisans Series in New Orleans Regional Winner, Bombay Sapphire Artisans Series in Miami, FL for Art Basel, (2018) Salon Gallery, Art Residency Gallery, Canal Place, New Orleans. 
​She attended the artist residencies, Mas Els Igols, in Barcelona Spain, 2017 and Arts Council of New Orleans program, Salon Artist-in-Residence Vol. 2 @ Canal Place in New Orleans, 2019.
meet the artists
We are a community of New Orleans visual artists. We are painters, sculptors, fashion & jewelry designers.
We are craftsman and metal workers, illustrators and printmakers.
We make and create original & one of a kind artworks handcrafted right here in New Orleans.
Where Y'Art is a tool to discover, shop and experience the best of
New Orleans art online and in person.
CREATORS OF ART
Where Y'Art is a curated community of New Orleans artists, craftsmen and designers seeking to connect with buyers and each other. At Where Y'Art, you'll have more sales opportunities and access to commercial opportunities to grow your creative business.
Email us for more information: hello@whereyart.net
LOVERS OF ART
Where Y'Art curates an online gallery where you can meet over 100 New Orleans artists — from painters to sculptors, craftsmen and jewelry designers — discover their passions and learn their stories. It's a 24-hour meeting place where the artist is always present and the wall space knows no limits.
If you're in New Orleans, pay us a visit, 1901 Royal Street in the historic Faubourg Marigny neighborhood.
Sign up here for updates: