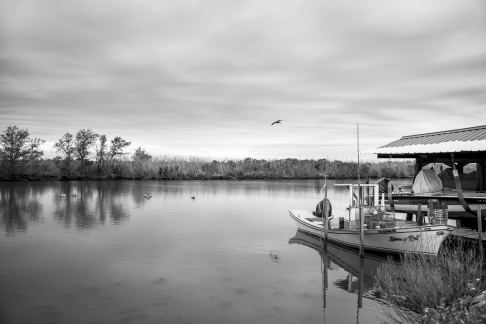 Series: Outside the Gates | Delacroix, La. Outside the gates lies the endangered beauty of home. This beauty is too often ignored or forgotten about. We have become so consumed with our fast paced lives, we often forget to look at the natural beauty of life that we pass by. This has been a theme through most of my work, and this project is no different. I was born and raised in St. Bernard Parish - well technically Chalmette. St. Bernard is a large parish that includes several diverse areas. I grew up in the largest, most populated area - only 8 miles from the hustle of downtown New Orleans. Sadly, I never visited the rural parts of the parish - out of sight, out of mind mentality. I never had a "reason" to go - didn't work there, didn't live there, never owned a boat, didn't fish, and since it is the southernmost part of the state you sure didn't "pass through" on your way to some where else.
Signed / Limited Edition archival pigment print photo on fine art paper
16" x 24"
Shipping cost: $25.00

I am a simple man with complex thoughts, and I love to express them through art and photography. I was born and raised in the New Orleans area, but I love to travel anywhere life takes me. My main form of art is fine art photography. While I do portrait and commercial work, my true passion is discovering the beauty that remains hidden in the city around us. I love to just walk around the streets and see what calls out to me.
My Inspiration is LIFE - plain and simple. My passion is discovering the hidden beauty that surrounds us; whether it is the way a building ages and breaks down after a life well spent or the way a child smiles as it looks up at their parents. Beauty surrounds us everywhere, and sometimes we forget to look for it...so here I am to remind you. I love the feel of the city; New Orleans is where my heart is, New York is where my dreams are, everywhere in between is where I am. Living each day like it was my last and sharing my passion.
MID CITY
meet the artists
We are a community of New Orleans visual artists. We are painters, sculptors, photographers & illustrators.
We are craftsmen and metal workers, printmakers and textile artists.
We make and create original & one of a kind artworks handcrafted right here in New Orleans.
Where Y'Art is a tool to discover, shop and experience the best of
New Orleans art online.
ART CONSULTING
Where Y'Art Works is an art consulting company and New Orleans artist collective that works with industry professionals to infuse art into the vision of your project. With our extensive network, technology and resources, Where Y'Art Works is a single point of contact for all of your art needs, delivered on time and in budget.
CREATORS OF ART
Where Y'Art is a curated community of New Orleans artists, craftsmen and designers seeking to connect with buyers and each other. At Where Y'Art, you'll have more sales opportunities and access to commercial opportunities to grow your creative business.
Apply now, or email us for more information: hello@whereyart.net
LOVERS OF ART
Where Y'Art curates an online gallery where you can meet over 100 New Orleans artists — from painters to sculptors, craftsmen and jewelry designers — discover their passions and learn their stories. It's a 24-hour meeting place where the artist is always present and the wall space knows no limits.
If you're in New Orleans, Louisiana, pay us a visit at the Where Y'Art Gallery, 1901 Royal Street 70116 in the historic Faubourg Marigny neighborhood or call 504 325-5672
Sign up here for updates: