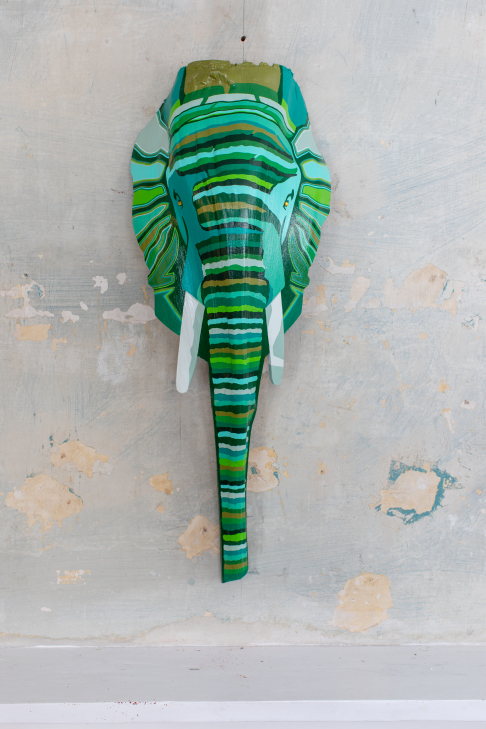 GEO Graphics LLC
Green Elephant
2018
This piece along with the Pink and Red Elephants were harvested from the same tree that bore several interesting shaped fronds. Nature creates the canvas I just add the finishing touches "Please message me directly for shipping prices."
Acrylic on Queen Palm Frond
36"x15"
Shipping cost: $0.00

George Augustin Sr. Conceptual Artist "Art is not what you see, but what you make others see." ~Degas
Art has always been my first love. As a native New Orleanian, I grew up with art everywhere. It is an integral part of the landscape of my city. You can ride through the French Quarter and view and purchase the art of untrained artist and some of it will rival your favorites. You can walk through the French Market and find hand painted oyster shells that are as gorgeous as a Ming vase. You can find a tattoo artist customizing shoes and belts with designs that will make your jaw drop. Art is as innate to New Orleans as our food and music. It is part of me. It always has been. It always will be.
As it happens to all of us, adulthood creeped in and with a keen understanding of the difference of what I had to do and what my heart compelled me to do, rather than pursue a art career, I embarked on a successful 40-year career in the technology industry however throughout my professional career, I never, ever lost sight of my love of art. Completely self-taught, I periodically used my family as my muses and studied the work of renowned artists. I would sketch and paint and constantly hone my hobby working toward the day I could devote my time and energy to the craft that I loved most.
Hurricane Katrina's devastation of my home led my wife and I to Minneapolis. For many of us, this was a hectic time in our lives, however art kept me rooted until we were able to return home. Upon my return to New Orleans, I discovered Queen Palm Branches and, using techniques that I developed and perfected, the "Palm Branch Creations" were born. Carving the bark and painting with an obsessive level of preciseness allowed me to see my hobby was much more than just a hobby. It was my calling. Reminiscent of the landscape of the Caribbean islands and the tropical foliage that is native to New Orleans, I am most proud the feeling that my Palm Branch series evokes from the viewer.
SLIDELL
YOU MAY ALSO LIKE
meet the artists
We are a community of New Orleans visual artists. We are painters, sculptors, fashion & jewelry designers.
We are craftsman and metal workers, illustrators and printmakers.
We make and create original & one of a kind artworks handcrafted right here in New Orleans.
Where Y'Art is a tool to discover, shop and experience the best of
New Orleans art online and in person.
CREATORS OF ART
Where Y'Art is a curated community of New Orleans artists, craftsmen and designers seeking to connect with buyers and each other. At Where Y'Art, you'll have more sales opportunities and access to commercial opportunities to grow your creative business.
Email us for more information: hello@whereyart.net
LOVERS OF ART
Where Y'Art curates an online gallery where you can meet over 100 New Orleans artists — from painters to sculptors, craftsmen and jewelry designers — discover their passions and learn their stories. It's a 24-hour meeting place where the artist is always present and the wall space knows no limits.
If you're in New Orleans, pay us a visit, 1901 Royal Street in the historic Faubourg Marigny neighborhood.
Sign up here for updates: