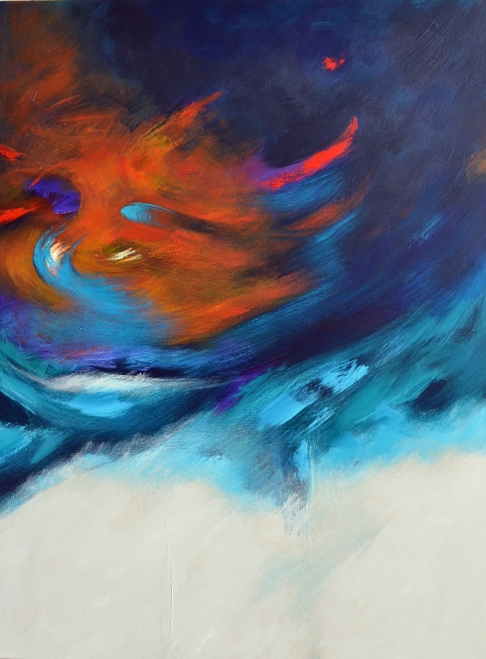 "Dark Was the Night, Cold Was the Ground" homage to Blind Willie Johnson
2015
On August 20, 1977, NASA launched the Voyager 2 spaceship on a one-way ticket to oblivion. Three weeks later, its sister craft, Voyager 1, blasted off with the same destination. Their mission for the first dozen years or so, as they cruised through the solar system, was to gather data from the planets. Their goal for the next 60,000 years or so, as they leave us far behind, is to carry a message in a bottle to the stars. Alongside an array of high-tech cameras, infrared instruments, and a large parabolic radio antenna, each Voyager bears a stylus, a phonograph record, and directions for playing it. This record is made of copper and plated in gold, created to last forever, to offer an audio and visual slide show of all things The record includes words (greetings in 55 languages), sounds (a train, a kiss, a barking dog), pictures (mountains, dolphins, sprinters), and ninety minutes of music. There are two singular pieces of music by two singular men who couldn't have been more different, one by Ludwig van Beethoven's the Cavatina from his thirteenth string quartet and , and the other Blind Willie Johnson's. "Dark Was the Night—Cold Was the Ground," a largely wordless hymn built around the yearning cries of Johnson's slide guitar and the moans and melodies of his voice. "Blind" Willie Johnson (January 22, 1897 – September 18, 1945) was a gospel blues singer and guitarist. While the lyrics of his songs were usually religious, his music drew from both sacred and blues traditions. It is characterized by his slide guitar accompaniment and tenor voice, and his frequent use of a lower-register 'growl' or false bass voice. In his youth his father would often leave him on street corners to sing for money. Tradition has it that he was arrested for nearly starting a riot at a New Orleans courthouse with a powerful rendition of "If I Had My Way I'd Tear the Building Down", a song about Samson and Delilah.
Acrylic on canvas
36" x 48"
Shipping cost: $150.00

I call my art "Composing with Color". Everyone hears music differently. The way we perceive art is shaped by our taste and by emotions, situations, and personalities. My canvas is the manuscript on which the notes are painted. I have attempted to have music take on physical colors as it travels through air. My ideal vision would be to create a world in colors as Thelonious Monk created a world of sound.
I am a graduate of The Pennsylvania Academy of the Fine Arts in Philadelphia, PA. I have had solo exhibitions in New Orleans, Los Angeles, Miami and Frankfurt, Germany. I have received a grant from the prestigious Pollock-Krasner Foundation and the Artist Fellowship Inc, New York, NY.
George McClements is a New Orleans artist living and working in the Bywater neighborhood.
BYWATER
meet the artists
We are a community of New Orleans visual artists. We are painters, sculptors, photographers & illustrators.
We are craftsmen and metal workers, printmakers and textile artists.
We make and create original & one of a kind artworks handcrafted right here in New Orleans.
Where Y'Art is a tool to discover, shop and experience the best of
New Orleans art online.
ART CONSULTING
Where Y'Art Works is an art consulting company and New Orleans artist collective that works with industry professionals to infuse art into the vision of your project. With our extensive network, technology and resources, Where Y'Art Works is a single point of contact for all of your art needs, delivered on time and in budget.
CREATORS OF ART
Where Y'Art is a curated community of New Orleans artists, craftsmen and designers seeking to connect with buyers and each other. At Where Y'Art, you'll have more sales opportunities and access to commercial opportunities to grow your creative business.
Apply now, or email us for more information: hello@whereyart.net
LOVERS OF ART
Where Y'Art curates an online gallery where you can meet over 100 New Orleans artists — from painters to sculptors, craftsmen and jewelry designers — discover their passions and learn their stories. It's a 24-hour meeting place where the artist is always present and the wall space knows no limits.
If you're in New Orleans, Louisiana, pay us a visit at the Where Y'Art Gallery, 1901 Royal Street 70116 in the historic Faubourg Marigny neighborhood or call 504 325-5672
Sign up here for updates: