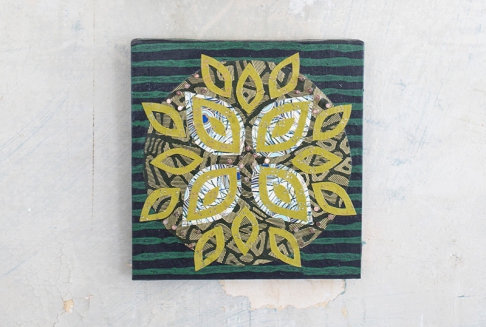 The bottom image (additional photo), Sprout II is part of a series of three that were created together. It can be sold on its own but the entire story is told best when all three are hung together. These three little ones bring joy. From their name, you can tell they were inspired by new growth.
Handmade paper applied to medium density fiberboard with copper accents
6.75" x 6.75" x .5"
Shipping cost: $25.00

While I'm originally from Little Rock, AR, I feel very at home where I now reside and work, right here in New Orleans. I grew up in a household where expression through creativity was encouraged. Art has also been a part of big chunks of my professional life. I never thought of myself as an artist. It took a while, a long while, but finally, my artistic medium made itself known to me.
Travels to places with deep-rooted culture as well as life experiences with people from varied backgrounds stir a desire in me to create. The inspiration for my work is fed by feelings of global community - where people are tied together by a common desire to know another and be connected through relationships despite differing exterior appearances and life experiences.
This mix of experiences comes out in my work through collage - just as each of us is a collage of varied experiences. Life is a collage; I like that.
Inspired by the beautiful sentiment and insight that comes from mandalas, from the practice of meditation, many of my pieces are created in such a form, with the strong intention being a part of the process. The mandala is a round shape with mostly symmetrical designs (but not always). Mandalas have their origin in Hinduism and Buddhism…used in meditation for focusing attention on something or someone in particular. In the modern world, many cultures use this tool for spiritual enlightenment. Mandalas are the mainstay of my work, but I have ventured out creating images of other sources of inspiration.
We see mandalas all around us…in the shape of a nautilus shell, the earth, a labyrinth or even a flower. Daily wonders that we may take for granted are often much more amazing than we give credit for and can often be very inspiring; at least I find it to be so. I like to think about art this way; art as a microcosm of the universe from an enlightened perspective.
My work is mixed media collage using handmade papers and copper bits - all put together with lots of love and happiness.
Holly Heine is a New Orleans artist living and working in the Marleyville-Fountainbleau neighborhood.
MARLYVILLE-FOUNTAINBLEAU
meet the artists
We are a community of New Orleans visual artists. We are painters, sculptors, photographers & illustrators.
We are craftsmen and metal workers, printmakers and textile artists.
We make and create original & one of a kind artworks handcrafted right here in New Orleans.
Where Y'Art is a tool to discover, shop and experience the best of
New Orleans art online.
ART CONSULTING
Where Y'Art Works is an art consulting company and New Orleans artist collective that works with industry professionals to infuse art into the vision of your project. With our extensive network, technology and resources, Where Y'Art Works is a single point of contact for all of your art needs, delivered on time and in budget.
CREATORS OF ART
Where Y'Art is a curated community of New Orleans artists, craftsmen and designers seeking to connect with buyers and each other. At Where Y'Art, you'll have more sales opportunities and access to commercial opportunities to grow your creative business.
Apply now, or email us for more information: hello@whereyart.net
LOVERS OF ART
Where Y'Art curates an online gallery where you can meet over 100 New Orleans artists — from painters to sculptors, craftsmen and jewelry designers — discover their passions and learn their stories. It's a 24-hour meeting place where the artist is always present and the wall space knows no limits.
If you're in New Orleans, Louisiana, pay us a visit at the Where Y'Art Gallery, 1901 Royal Street 70116 in the historic Faubourg Marigny neighborhood or call 504 325-5672
Sign up here for updates: