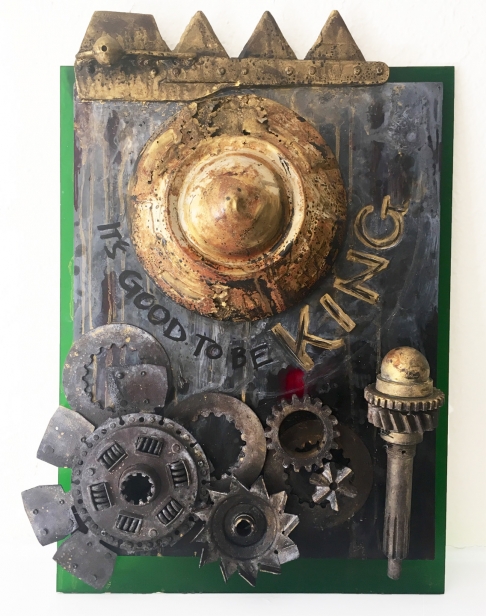 Found objects from a ranch in Colorado and the streets of New Orleans. Drove around and let them jumble in a cardboard box and when I got them to the studio- out came the king. This piece is quite heavy for its size at 35lbs
farm equipment, hubcap,car parts, Plexiglas, gold leaf
26" x 18" x 5"
Shipping cost: $70.00

New Orleans is my home. I wasn't born here, but she doesn't mind.
I was raised in Colorado by parents who instilled an honest work ethic and compassion for others...offset by a big brother who made sure I knew how to punch, make a proper fire, and apologize when I broke stuff. Somewhere along the line, I discovered my hands could make things, and I've been doing all I can to earn a living that way ever since.
I graduated from the University of Colorado, Boulder and immediately ran off to join the circus that is film making. I learned how to weld and basic woodworking from true craftspeople there. My need to combine whimsy with decay was forged on film sets and gradually brought me to New Orleans.
Over the last 15 years, I have built custom sculpture and 2D work for many feature films and television programs. My work also includes gallery show contributions, large scale welded architectural pieces, personal memorial sculptures, and custom works for clients of interior decorators in Los Angeles, Atlanta, Dallas, and New Orleans.
I share a studio in Uptown and spend as much time as I can up to my elbows in art.
meet the artists
We are a community of New Orleans visual artists. We are painters, sculptors, fashion & jewelry designers.
We are craftsman and metal workers, illustrators and printmakers.
We make and create original & one of a kind artworks handcrafted right here in New Orleans.
Where Y'Art is a tool to discover, shop and experience the best of
New Orleans art online and in person.
CREATORS OF ART
Where Y'Art is a curated community of New Orleans artists, craftsmen and designers seeking to connect with buyers and each other. At Where Y'Art, you'll have more sales opportunities and access to commercial opportunities to grow your creative business.
Email us for more information: hello@whereyart.net
LOVERS OF ART
Where Y'Art curates an online gallery where you can meet over 100 New Orleans artists — from painters to sculptors, craftsmen and jewelry designers — discover their passions and learn their stories. It's a 24-hour meeting place where the artist is always present and the wall space knows no limits.
If you're in New Orleans, pay us a visit, 1901 Royal Street in the historic Faubourg Marigny neighborhood.
Sign up here for updates: