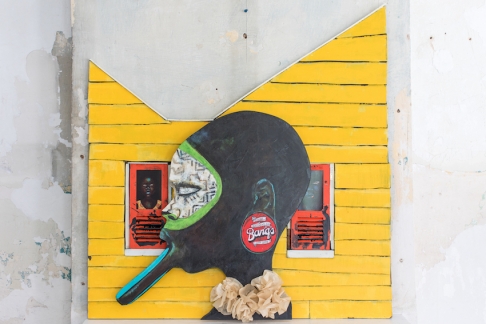 JHand Paints
Upper 9th Ward
2017
This piece is inspired by New Orleans, LA. It is my home. New Orleans is where I was born, raised, and currently reside in. Here, houses tell stories of our ancestors. Local business logos become adornments to remind us of what was and what still is.
Acrylic, paper, wood
44" x 42"
Shipping cost: $150.00

Being born and raised in New Orleans has been an endless source of inspiration for me. The city's rich culture, distinct landmarks, and colorful (and tragic) history all shine through the worlds I create in my paintings. Known in the art world as "JHand," my work aims to capture all that makes my hometown special: the flavor, the essence, the jazz, the originality.
Drawing and painting have always brought me peace. My earliest creations were on the backs of worksheets, inside books. I was still drawing, on everything. As my artistic abilities became more apparent, I found support from family, friends, and teachers: my mom's friends gave me sketchpads; an elementary school teacher let me decorate the classroom and showcased my work to other faculty members. I found creating to be liberating, and, thankfully, lifesaving: I had a crazy childhood. I lived with a lot of different people in a lot of different places, and I can't imagine what would have happened if I never picked up the brush.
My children also inspire my paintbrush strokes, the people I've met on my journey through life, and the mental, emotional, and spiritual space I'm in a while creating. My latest pieces have been blue, a reflection on a lifetime of "living here and living there."
"House of Blues," my newest series, offers a fresh take on the juxtaposition of New Orleans and Africa. It features blue people with robust African features in distinctly New Orleans homes. In painstaking detail, the collection captures the beauty and the tragic aspects — the sadness, joy, jazz, gentrification, etc. — of life in the Crescent City.
Having depicted many scenes and characters, I have found that the most significant creative clarity is when I'm focused on myself. I painted many different topics growing up. But when I tapped into myself and went deep into my emotions through my work, I felt free as an artist.
My work was the regional winner of the Bombay Sapphire Artist Series at Art Basel in Miami, it's been featured in Bennachin's African restaurant, I'm an artist vendor at the New Orleans Jazz and Heritage Festival, and my work has been featured in numerous gallery shows around the city.
UPPER 9TH WARD
meet the artists
We are a community of New Orleans visual artists. We are painters, sculptors, photographers & illustrators.
We are craftsmen and metal workers, printmakers and textile artists.
We make and create original & one of a kind artworks handcrafted right here in New Orleans.
Where Y'Art is a tool to discover, shop and experience the best of
New Orleans art online.
ART CONSULTING
Where Y'Art Works is an art consulting company and New Orleans artist collective that works with industry professionals to infuse art into the vision of your project. With our extensive network, technology and resources, Where Y'Art Works is a single point of contact for all of your art needs, delivered on time and in budget.
CREATORS OF ART
Where Y'Art is a curated community of New Orleans artists, craftsmen and designers seeking to connect with buyers and each other. At Where Y'Art, you'll have more sales opportunities and access to commercial opportunities to grow your creative business.
Apply now, or email us for more information: hello@whereyart.net
LOVERS OF ART
Where Y'Art curates an online gallery where you can meet over 100 New Orleans artists — from painters to sculptors, craftsmen and jewelry designers — discover their passions and learn their stories. It's a 24-hour meeting place where the artist is always present and the wall space knows no limits.
If you're in New Orleans, Louisiana, pay us a visit at the Where Y'Art Gallery, 1901 Royal Street 70116 in the historic Faubourg Marigny neighborhood or call 504 325-5672
Sign up here for updates: