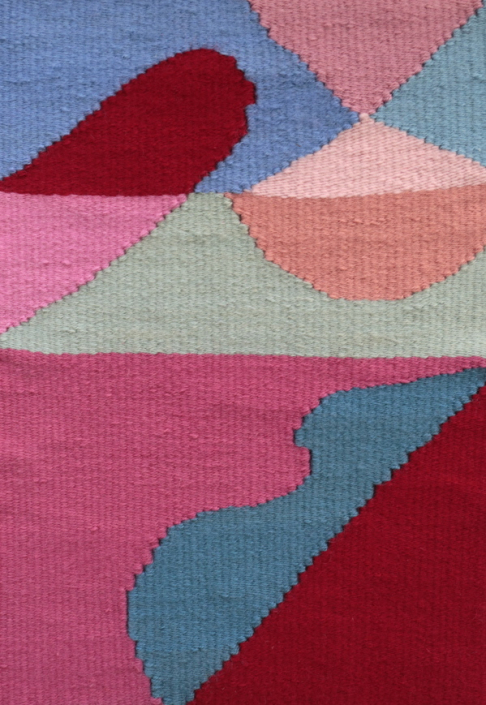 I will often look back through a sketchbook and take different elements from drawings to make a new piece. I wanted to experiment with using warm and cool colors and make the top and bottom of the work opposites in terms of the colors.
Wool yarn, framed in an Oak shadow box.
20" x 16"
Shipping cost: $0.00

I have often wondered why I enjoy things that are so time-consuming and require so much attention to detail, for instance threading a loom and tapestry weaving. After reflecting on this idea of taking pleasure in what most people would see as tedious and time-consuming, I have realized that is exactly what I like about weaving. I like that is is a slow process that forces me to be focused and thoughtful. I have the tendency to get excited about something and jump right in, I don't usually have the patience for planning things out. I know that sounds like my personality wouldn't be compatible with being a weaver but actually, I think it compliments it quite well. From the conception of an idea to the warping of my loom to the final pick, I am thinking about the end result and often planning the next step. This long process gives me time to thoroughly plan out and meditate on my idea while also working toward the end result. Weaving like no other art form has been a way for me to create artwork I am proud of and have enjoyed making.
I begin my process in my sketchbook, designing my tapestry. Once I have worked out a drawing I like, I create a drawing the size of the finished tapestry that I can work from while weaving. Next, I decided colors which is always challenging for me. I look through my yarns and find combinations I like, or sometimes I have one color I know I want to use I and I work from there. Once I have chosen my yarn I have to decide what color each shape will be and how the colors will interact with the shapes and colors around them. After I have completed the design work, I move onto threading my loom. The warp threads are vertical threads that are the base of a tapestry that you can not see once the piece is complete. There are eight warp threads per inch, for example, "Pleasure" is seventeen inches wide so there are one hundred and thirty-six warp threads. Tapestry weaving involves picking up every other warp thread and passing your weft yarn (which is the yarn that goes horizontally in the piece) through. I do this every row as I build up my image. Tapestry weaving is a very meditative as well as a lengthy process, it can take me many weeks to complete one tapestry weaving.
MID-CITY
Where Y'Art is a tool to discover, shop and experience the best of
New Orleans art online and in person.
CREATORS OF ART
Where Y'Art is a curated community of New Orleans artists, craftsmen and designers seeking to connect with buyers and each other. At Where Y'Art, you'll have more sales opportunities and access to commercial opportunities to grow your creative business.
Apply now, or email us for more information: hello@whereyart.net
LOVERS OF ART
Where Y'Art curates an online gallery where you can meet over 100 New Orleans artists — from painters to sculptors, craftsmen and jewelry designers — discover their passions and learn their stories. It's a 24-hour meeting place where the artist is always present and the wall space knows no limits.
If you're in New Orleans, Louisiana, pay us a visit at the Where Y'Art Gallery, 1901 Royal Street 70116 in the historic Faubourg Marigny neighborhood. Or call +1 504 325-5672
Sign up here for updates: