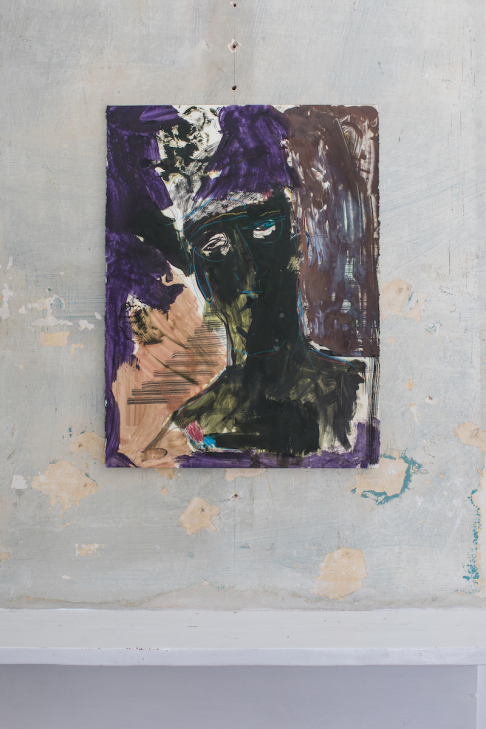 Mixed Media on Paper
30" x 22"
Shipping cost: $0.00

I approach my work with spontaneity, quickness, and—when I chance upon it—wit. The emotion or atmosphere of the day influences the work, and the images that result are a story of myself. Am I telling the same story over and over? Am I telling new stories? I have not figured it out exactly. But the unknown, that not knowing, is rooted in the nature of any experiment, and I am deeply interested in experimentation: how burnt paper or dirt can produce an unexpected image. What I know, for now, is that the works are both simply and not so simply works of myself, meaningless and meaningful as any emotion can be when rendered as an image.
My process is often very fast as I paint my way through these emotional landscapes and atmospheres. At the end of a day, I can sift through a pile of images, swift as a river, and see what catches my eye. In those moments, it is the subconscious mind that is in control; it is the subconscious mind that has recorded and understood everything I have done in my life. This fluidity, this flow, is essential to my work—and the mediums I choose to employ are derivative of that fluid nature. Paint is one, though there are many others. I can press on charcoal, ink, motor oil, dirt, blood, or urine—anything that will readily flow—and, through experimentation, produce new colors, new images, the work will expand beyond what has previously been expressed. When a tree is growing and expanding, it doesn't grow straight up or down. And my paintings grow exactly how they want to grow—all over—which seems utterly natural. This is the flow I hope to capture in my work: a reflection or an echo of a subconscious, our second nature, the stories we recall when we let ourselves drift.
MARIGNY
meet the artists
We are a community of New Orleans visual artists. We are painters, sculptors, photographers & illustrators.
We are craftsmen and metal workers, printmakers and textile artists.
We make and create original & one of a kind artworks handcrafted right here in New Orleans.
Where Y'Art is a tool to discover, shop and experience the best of
New Orleans art online.
ART CONSULTING
Where Y'Art Works is an art consulting company and New Orleans artist collective that works with industry professionals to infuse art into the vision of your project. With our extensive network, technology and resources, Where Y'Art Works is a single point of contact for all of your art needs, delivered on time and in budget.
CREATORS OF ART
Where Y'Art is a curated community of New Orleans artists, craftsmen and designers seeking to connect with buyers and each other. At Where Y'Art, you'll have more sales opportunities and access to commercial opportunities to grow your creative business.
Apply now, or email us for more information: hello@whereyart.net
LOVERS OF ART
Where Y'Art curates an online gallery where you can meet over 100 New Orleans artists — from painters to sculptors, craftsmen and jewelry designers — discover their passions and learn their stories. It's a 24-hour meeting place where the artist is always present and the wall space knows no limits.
If you're in New Orleans, Louisiana, pay us a visit at the Where Y'Art Gallery, 1901 Royal Street 70116 in the historic Faubourg Marigny neighborhood or call 504 325-5672
Sign up here for updates: