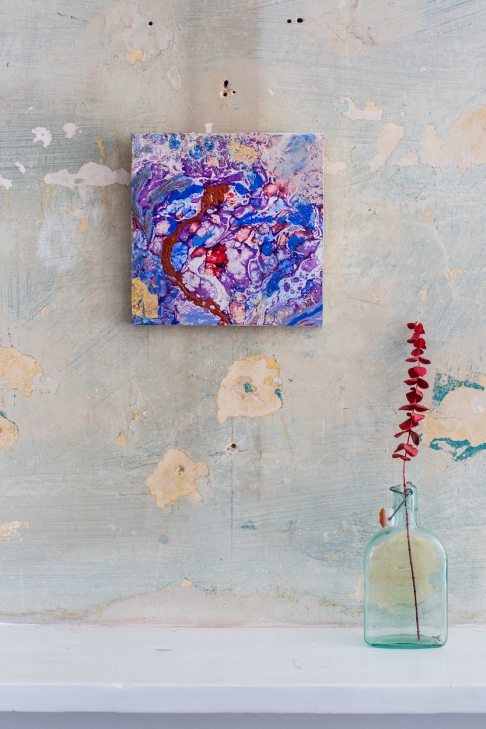 My "Little Universes" Series was my first attempt at experimenting with mixed media. I wanted my printmaking work to evolve and grow with another medium. I've been fascinated with encaustic techniques for years so it only sounded reasonable to start there. Marbled monoprints I've printed in the past serve as backgrounds and elements of inspiration for the newly created works, which resemble planetary landscapes or cosmic bodies (hence the name of the series). I am excited to share with you my results and hope that you may like to own a little universe of your own. NOTE: I did not title any of the wood panel pieces in the Little Universes Series. The idea is to get you, the customer, to name it yourself.....just as someone would name a star. And in keeping with that idea, you will receive a certificate of ownership from me...which includes the new title of the piece, your name, and my signature with a date. GREAT GIFT IDEA!! #11 is also part of a diptych, #12 being the second half. I've included a photo of each one in "additional images". The cost of the diptych is $225.00, instead of $120.00 each. An option to select this price is located under "price".
Wax, Marbled Paper, and Metal Leaf
10" x 10" on 3/4" wood panel
Shipping cost: $25.00

My artistic journey has taken me from performing artist to visual artist in the most unlikely ways. I originally moved to New Orleans to get a degree in music. Unexpected circumstances led me in quite a different direction. After changing my major to graphic design, I signed up for an intro class in printmaking. It was a hands-on version of what I planned to do on a computer. As the art department put my chosen major on a short hiatus, I kept with printmaking and continued to learn new techniques. When the graphic design program returned, I had already gained such an appreciation and love for the hands on creative process and a certain affinity for the smell of an old-fashioned print shop, that I decided to complete my degree in printmaking. Graduation is a faint memory now, but I continue learning new things about my medium each day.
Much of my work is intuitive, so any particular piece can be emotionally-driven or meditative in concept.  I enjoy experimenting and combining mediums. I'm also known to obsess over certain imagery and create several versions of one thing.  Of course, this directly competes with my "printmaker mind" and the idea of exact multiples, but it is something I'm working on in my evolution as an artist.
BYWATER
meet the artists
We are a community of New Orleans visual artists. We are painters, sculptors, photographers & illustrators.
We are craftsmen and metal workers, printmakers and textile artists.
We make and create original & one of a kind artworks handcrafted right here in New Orleans.
Where Y'Art is a tool to discover, shop and experience the best of
New Orleans art online.
ART CONSULTING
Where Y'Art Works is an art consulting company and New Orleans artist collective that works with industry professionals to infuse art into the vision of your project. With our extensive network, technology and resources, Where Y'Art Works is a single point of contact for all of your art needs, delivered on time and in budget.
CREATORS OF ART
Where Y'Art is a curated community of New Orleans artists, craftsmen and designers seeking to connect with buyers and each other. At Where Y'Art, you'll have more sales opportunities and access to commercial opportunities to grow your creative business.
Apply now, or email us for more information: hello@whereyart.net
LOVERS OF ART
Where Y'Art curates an online gallery where you can meet over 100 New Orleans artists — from painters to sculptors, craftsmen and jewelry designers — discover their passions and learn their stories. It's a 24-hour meeting place where the artist is always present and the wall space knows no limits.
If you're in New Orleans, Louisiana, pay us a visit at the Where Y'Art Gallery, 1901 Royal Street 70116 in the historic Faubourg Marigny neighborhood or call 504 325-5672
Sign up here for updates: