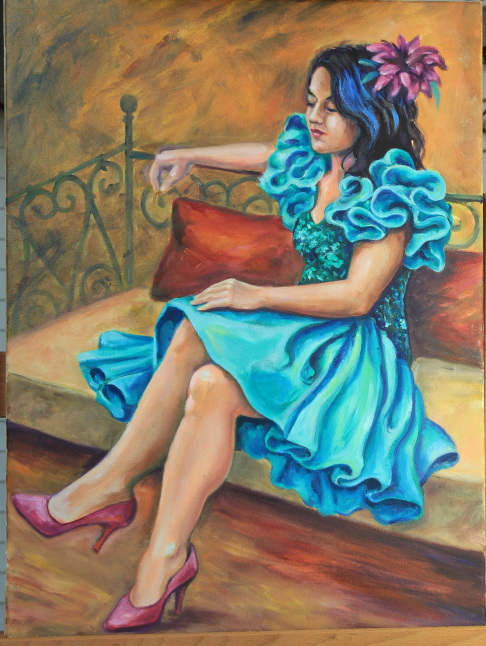 Painted from life with one of my favorite models, Syvani.
Acrylic then oil on canvas
18" x 24" x 1"
Shipping cost: $0.00

I first began my career as a scenic artist in 1992, while attending Atlanta College of Art. painting scenery for corporate parties, murals and faux finishes on trade show booths for Nike and LA Gear, as well as on films such as "RoboCop III" and "Consenting Adults". I landed my first experience creating exhibit work was and murals for the "Water Works Museum" in Clanton, AL.  
In 1996, I was inspired to move to the more culturally vibrant New Orleans. I was immediately hired by Kern Sculpture, and one of my first projects for them are the three larger-than-life alligators playing instruments which still grace the front entrance of the Orleans Casino in Las Vegas. I soon moved onto Spangenberg Studios, producing scenery for Mardi Gras balls, then became the scenic charge the the company was purchased by Maloney Productions (2001-2004), and worked simultaneously as the scenic charge at Southern Repertory Theatre (2002-2006). I left to once again freelance, and my main client for the next 10 years was the Audubon Institute. I executed many murals for the Aquarium's Changing Exhibit area, as well as building and painting exhibits for the Audubon Zoo, Insectarium, and now defunct Nature Center. I also designed and painted murals in many privately-owned homes and businesses, such as McMillian's First Steps and the Magnolia Mansion.
In 2007, an educational chapter of my life began when I was approached by Clarence Becknell to lead two groups of high school art students in executing two educational murals, at McMain High School (2009) and Warren-Easton High School (2010), with the theme of the historical contribution of the Buffalo Soldiers. Soon after, I designed and led an educational mural project for the House of Blues Foundation with the theme, "New Orleans: A Canvas for the Imagination". In 2014, I was invited to be the Artist-in-Residence at Isodore Newman School, working with the students in both middle and high school to visually express their feelings about the Diminishing Wetlands in mural form. I did many projects while also supplementing my income by painting floats, especially for Bacchus, Endymion, Muses and Orpheus.
The most significant mural work I have done to date has been two large-scale murals on either side of Breaux Mart located in Uptown New Orleans. One features a 45' alligator and a 6' tall nutria, while the other depicts scenes of people buying and selling groceries in New Orleans during the 19th Century.
In the past years, Bernardi has further developed her style in the portrayal of local musicians in their own act of creation- on stage while improvising. Many of these works were exhibited at the club where these works were first inspired and conceived, and have been recently released in a 2021 calendar featuring 12 of these selected works entitled "The Sidebar NOLA Series". Her mural work continues with a recent collaboration with New Orleans muralist Jamar Pierre, and with a commission currently in development for the Louisiana Pepper Exchange.
meet the artists
We are a community of New Orleans visual artists. We are painters, sculptors, photographers & illustrators.
We are craftsmen and metal workers, printmakers and textile artists.
We make and create original & one of a kind artworks handcrafted right here in New Orleans.
Where Y'Art is a tool to discover, shop and experience the best of
New Orleans art online.
ART CONSULTING
Where Y'Art Works is an art consulting company and New Orleans artist collective that works with industry professionals to infuse art into the vision of your project. With our extensive network, technology and resources, Where Y'Art Works is a single point of contact for all of your art needs, delivered on time and in budget.
CREATORS OF ART
Where Y'Art is a curated community of New Orleans artists, craftsmen and designers seeking to connect with buyers and each other. At Where Y'Art, you'll have more sales opportunities and access to commercial opportunities to grow your creative business.
Apply now, or email us for more information: hello@whereyart.net
LOVERS OF ART
Where Y'Art curates an online gallery where you can meet over 100 New Orleans artists — from painters to sculptors, craftsmen and jewelry designers — discover their passions and learn their stories. It's a 24-hour meeting place where the artist is always present and the wall space knows no limits.
If you're in New Orleans, Louisiana, pay us a visit at the Where Y'Art Gallery, 1901 Royal Street 70116 in the historic Faubourg Marigny neighborhood or call 504 325-5672
Sign up here for updates: