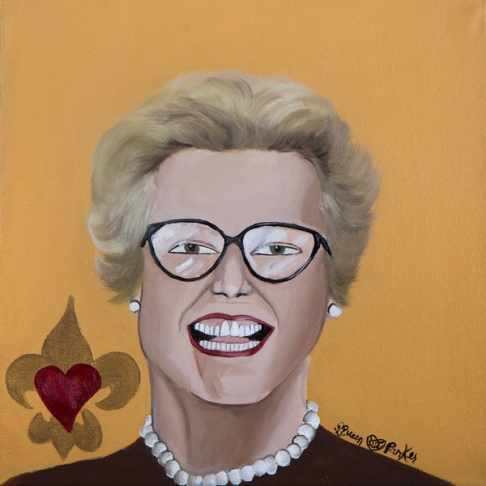 Queen Hope Poetic Art
Carolyn 'Blondie' Labouisse
2018
The legacy: Born on St. Louis Plantation near Plaquemine, Blondie Labouisse came to politics naturally: Her father, Edward James Gay, was a state senator after World War I. She didn't become politically active, however, until the 1939-40 gubernatorial contest, when she started ringing doorbells in the Garden District and the nearby St. Thomas housing development and found she liked it. She soon became a player in Democratic Party politics, serving on the party's State Central Committee for eight years, in addition to serving on other civic boards and helping establish such organizations as the Friends of the Library. A group she convened in her living room to work on issues such as teenage pregnancy, medical care and homelessness became known as Blondie's Bombers. Labouisse received The Times-Picayune Loving Cup for 1990; the selection committee's statement said, "Few show more care and compassion for community and fellow man." The artist: Queen Hope Parker. The quote: "She believed in a lot of things that were not at all popular with her social group. This didn't daunt her in the slightest. Blondie would just plunge right in ... and things would happen." -- Liz McCarthy, a longtime friend and member of Blondie's Bombers Explore more of Parker's work online at WhereYart.net and in person at the Where Y'Art gallery, 1901 Royal St. TRI-via She acquired the nickname "Blondie," by which everyone knew her, when she was a Newcomb College student in the 1930s. When she passed the Kappa Alpha fraternity house on her way to class, she said members would call out, "Blondie Bombshell! Blondie Bombshell!" In deLesseps S. "Chep" Morrison's 1945-46 mayoral race as a reform candidate, Labouisse was part of the "broom brigade," a group of broom-brandishing women who provided one of the campaign's most indelible images as they marched up St. Charles Avenue, sweeping the street to show their desire to sweep out the incumbents. Morrison won. Labouisse was a delegate to the 1964 and 1968 Democratic National conventions. She organized talk shows on city and state issues for WYES-TV, whose headquarters was a building that her husband, the architect F. Monroe Labouisse, had designed. After the main library at Lee Circle was demolished to make way for K&B Plaza, Labouisse built support for a replacement with a group that became the Friends of the Library. The group successfully put pressure on Morrison to include a new library in a bond issue. In 1969, she ran for the City Council's District B seat. Labouisse was a president of the Independent Women's Organization. When Labouisse died, U.S. Sen. Mary Landrieu noted her death with a statement in the Congressional Record in which she described Labouisse as "the classic Southern woman who, when she saw something lacking in the community, would immediately step forward, roll up her sleeves, and set about making things right."

12" x 12"
Shipping cost: $0.00

I was born and raised in downtown New Orleans into a culture of cooking, music, dance, art and crafts. My grandfather's hobby was visual art, my dad is a chef, and my grandmother sewed clothing; I freelanced all these talents. As a child, my father registered my siblings and I in dance and music classes. I attended McDounah 35 Senior High, but due to Hurricane Katrina, I graduated from Westside High in Houston, Texas. After graduating high school, I moved back home and worked full time while attending Delgado, then William Carey for college prerequisites.
I later attended Dillard University School of Nursing in 2012 and I graduated in May 2015 with a Bachelor of Science in Nursing. I am currently a Registered Nurse aspiring to become a Nurse Midwife. I also completed Doula training with Sista Midwife Productions in November 2014 and became a part of Birthmark Doula Collective shortly after.
People often ask, "What's your focus?" This is a difficult conversation in one sitting. My focus is my belief. My art tells a story in the form of poetry. As an artist, I feel free to express my vision through creations not limited to sewing, painting, drawing, or craft. It all depends on the message I am sending. I dream of a world where we can live holistically in nature, health, and beauty. Originality and authenticity of species and spirit is my highest value. I am now working my way back into the art world to continue sharing this vision with the world.
YOU MAY ALSO LIKE
meet the artists
We are a community of New Orleans visual artists. We are painters, sculptors, fashion & jewelry designers.
We are craftsman and metal workers, illustrators and printmakers.
We make and create original & one of a kind artworks handcrafted right here in New Orleans.
Where Y'Art is a tool to discover, shop and experience the best of
New Orleans art online and in person.
CREATORS OF ART
Where Y'Art is a curated community of New Orleans artists, craftsmen and designers seeking to connect with buyers and each other. At Where Y'Art, you'll have more sales opportunities and access to commercial opportunities to grow your creative business.
Email us for more information: hello@whereyart.net
LOVERS OF ART
Where Y'Art curates an online gallery where you can meet over 100 New Orleans artists — from painters to sculptors, craftsmen and jewelry designers — discover their passions and learn their stories. It's a 24-hour meeting place where the artist is always present and the wall space knows no limits.
If you're in New Orleans, pay us a visit, 1901 Royal Street in the historic Faubourg Marigny neighborhood.
Sign up here for updates: