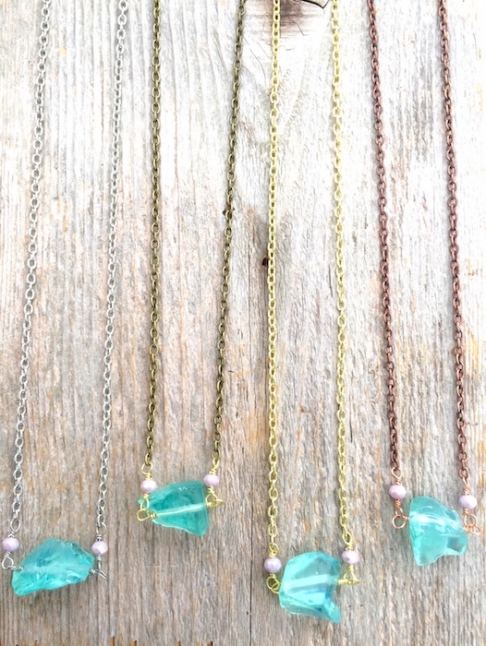 Valois Designs
Small Raw Quartz Necklace
Small Raw Quartz Necklace Quartz is a power stone. It has been called the "Universal Crystal" because of its many uses. It enhances energy by absorbing, storing, amplifying, balancing, focusing and transmitting. It channels universal energy. Quartz also enhances thoughts, as they are a form of energy. This necklace is one of my favorite designs and is categorized in my limited quantity line! This piece will go great layered up with your favorite long necklace or it will shine on your neck worn by itself. Each quartz bead is unique and one of a kind. - The pendant is a raw, rough stone mixed with light blue and clear variations. (The stones are natural so they may vary in size, shape and color.) -You can choose from silver, gold, bronze or copper chain. (The chain measures 18") -The additional beads are czech faceted beads. ***Each order will be neatly packaged in a gift box*** ***** Facebook - VALOIS DESIGNS Twitter - @VALOISDESIGNS Instagram - VALOISDESIGNS ***** *Valois Designs has made every effort to display accurate colors in the photographs. However, due to numerous variations in the settings of your monitor, I cannot guarantee that the colors that you view on your screen are the exact colors of the items. Please contact me for questions.

I grew up in a small town in Louisiana, and have always had an interest in art. I always loved painting and drawing, but truth be told, I genuinely enjoyed doing anything creative! My love for jewelry began with a jewelry-making kit and a "How to Make Jewelry" book that my brother gave me.
It didn't take me long to figure out that I had a passion for fashion! After high school, I decided I was ready for newer and bigger experiences. I moved to Dallas and could not wait to see what "big city life" was all about! I enrolled in fashion school and 18 months later, I graduated with an Associate of Arts Degree in Fashion Design and Merchandising. After graduation, I had the opportunity to work for several companies designing jewelry. Each of those experiences taught me more about jewelry than I can ever express, and I could not be more grateful for them!
Armed with my new experiences and knowledge, I knew I still wanted to do more! I had a desire to better my skills and grow as a designer. I was ready to start my own business. I felt that the best way to honor my family was to name my business after those that helped me get here! The name Valois - French pronunciation [Val-Wa] - is my Grandparents' last name and my Mother's maiden name, so it seemed like the perfect fit! Today, I design my jewelry to match my personality – unique, bright and fun! I am beyond blessed to wake up everyday and have the opportunity to do what I am passionate about, to share my unique accessories and to put a smile on customers faces when they see my designs.
Anything is possible if you just have faith!
~Rebecca Diane - Valois Designs
Rebecca Bordelon is a New Orleans artist working in the Blue Plate Artist Lofts in the Broadmoor neighborhood.
BROADMOOR
YOU MAY ALSO LIKE
meet the artists
We are a community of New Orleans visual artists. We are painters, sculptors, fashion & jewelry designers.
We are craftsman and metal workers, illustrators and printmakers.
We make and create original & one of a kind artworks handcrafted right here in New Orleans.
Where Y'Art is a tool to discover, shop and experience the best of
New Orleans art online and in person.
CREATORS OF ART
Where Y'Art is a curated community of New Orleans artists, craftsmen and designers seeking to connect with buyers and each other. At Where Y'Art, you'll have more sales opportunities and access to commercial opportunities to grow your creative business.
Email us for more information: hello@whereyart.net
LOVERS OF ART
Where Y'Art curates an online gallery where you can meet over 100 New Orleans artists — from painters to sculptors, craftsmen and jewelry designers — discover their passions and learn their stories. It's a 24-hour meeting place where the artist is always present and the wall space knows no limits.
If you're in New Orleans, pay us a visit, 1901 Royal Street in the historic Faubourg Marigny neighborhood.
Sign up here for updates: