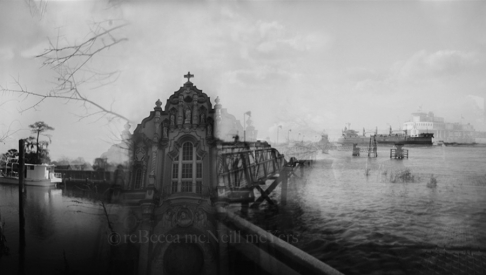 St Joseph's Cathedral is the oldest cathedral in Jefferson Parish, the first area settled as people began to move out of the city. For years, the Gretna Ferry took people across to the city, first to Jackson Street, uptown, and later to Canal Street in the quarter. The Westwego waterway on the left used to empty into Barataria Bay. This bay allowed fishermen living in this rich fishing area to compete with New Orleans fishermen by cutting 45 miles off of their journey to the French Market. The waterway is now closed. This image was created as part of a public art commission for Jefferson Courthouse in Gretna, La.
Multiple image photograph created using film, printed on durable canvas (no framing needed). Canvases available in all color options and in custom sizes on request. Signed limited editions available on archival museum weight paper. Limited editions include minimum one inch white border for framing.
14" x 24"
Shipping cost: $10.00

I call my works "Crossings". They represent the images left in our mind's eye that form after we visit or travel through a place. Our inner.... giant....mental..... canvas.
How it all began: My mother always told me I was an observer. She said I would sit still for hours, just watching the world go by. I got my first camera at age 12 but I did not realize the power of photography until I got a chance to participate in a photographic research project on killer whales. There, I began learning the power that photographs held.
I ended up in California. I met a master photographer and printer named Robert Cavalli. I begged him for a job for over a year. Finally, he hired me and taught me everything I know about the possibilities of developing and printing all kinds of black and white film. He was an amazing teacher and I could not have paid for a better education in any school. He was a painter with light and his passion for the medium transferred to me.
Developing my own personal style began when I had to ride a train each day for over 120 miles. It was a unique view of the world. The landscape moving while I sat still, suspended in a metal box. Images scrolled by, some just a flash, some slowly disappearing from view. It became a challenge to capture these visions.
When I reached the end of my trip, my mind always created a single giant mental canvas on which the journey was etched. All that I had experienced was reflected on my mind's eye including what I had seen and feelings about the journey. I realized that this happens when we travel through or visit a place and I began to wonder how I could convey this in an image. I began to collaborate with Robert and it was from our collaborations and years of practice that I was able to develop the image style I use today.
Rebecca McNeill Meyers is a New Orleans artist living and working in the Northshore.
NORTHSHORE
YOU MAY ALSO LIKE
meet the artists
We are a community of New Orleans visual artists. We are painters, sculptors, fashion & jewelry designers.
We are craftsman and metal workers, illustrators and printmakers.
We make and create original & one of a kind artworks handcrafted right here in New Orleans.
Where Y'Art is a tool to discover, shop and experience the best of
New Orleans art online and in person.
CREATORS OF ART
Where Y'Art is a curated community of New Orleans artists, craftsmen and designers seeking to connect with buyers and each other. At Where Y'Art, you'll have more sales opportunities and access to commercial opportunities to grow your creative business.
Email us for more information: hello@whereyart.net
LOVERS OF ART
Where Y'Art curates an online gallery where you can meet over 100 New Orleans artists — from painters to sculptors, craftsmen and jewelry designers — discover their passions and learn their stories. It's a 24-hour meeting place where the artist is always present and the wall space knows no limits.
If you're in New Orleans, pay us a visit, 1901 Royal Street in the historic Faubourg Marigny neighborhood.
Sign up here for updates: